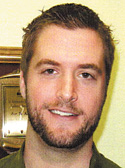 ---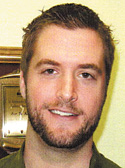 Photo

Photo
Staff report
YOUNGSTOWN
David J. Stillwagon has been named chief executive officer of the Community Corrections Association Inc. to succeed Dr. Richard J. Billak.
Billak, the association's founder and CEO for the past 40 years, retires at the end of this year.
Stillwagon has been with CCA for nearly three years and is program director of a unit serving state and federal offenders.
At CCA, he was a case manager and vocational specialist before becoming a unit director.
Having earned his bachelor's degree in criminal justice from Kent State University, he will enroll this fall in the master's of business administration program at Youngstown State University.
Stillwagon, who was chosen from a national pool of nearly 100 applicants, will begin his new duties Oct. 1, and will shadow Billak until he retires Dec. 31.
"The main goal is to continue upon the legacy that Dr. Billak has set forth and the foundation that he has established," Stillwagon said.
"I look forward to continuing to provide alternative-sanctioning options for local, state and federal authorities," he said, referring to alternatives to jail or prison for criminal offenders.
Stillwagon said he would pursue "the ultimate goal to serve and make the community safer."
Billak said of Stillwagon, "He has a good sense of what the agency is about. He has a passion for our mission, and he's committed to the community to have CCA continue to excel."
Having been CCA staff member of the year in 2012, Stillwagon has achieved 100 percent compliance in three audits of his unit by the U.S. Bureau of Prisons.