Hubbard couple raises alpacas, llamas and goats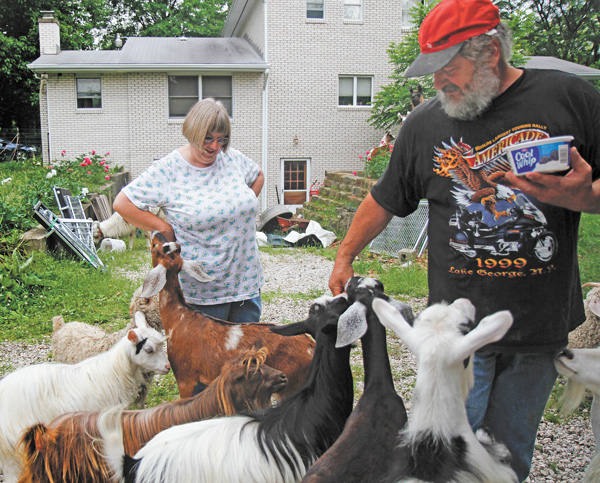 ---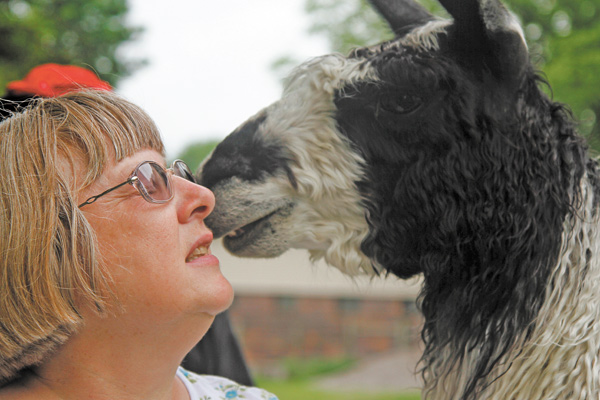 Photo
Gail Ross receives a kiss from one of her llamas at Ross Ranch in Hubbard. She and her husband, Paul Ross, have owned Ross Ranch since 2000, and the farm now boasts more than 100 animals, including alpacas, llamas, goats and runner ducks.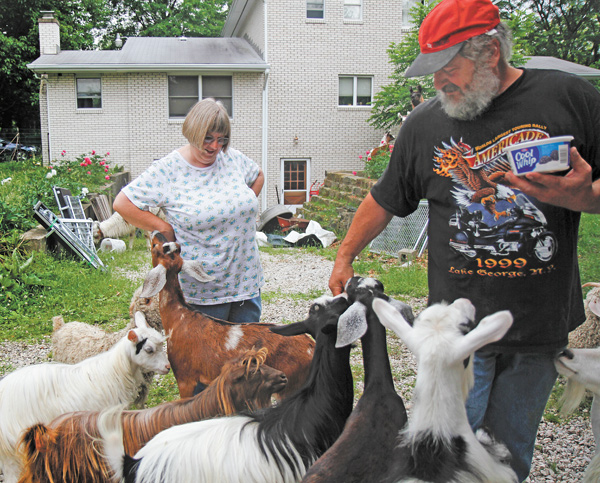 Photo
Gail and Paul Ross feed their goats at Ross Ranch on Collar Price Road in Hubbard. The couple has 20 miniature silky fainting goats, miniature Nubian goats and angora goats, all of which are friendly and love people, Gail said.
By EMMALEE C. TORISK
Hubbard
Gail and Paul Ross started Ross Ranch with three alpacas and the corner of a barn.
Now, 13 years later, 60 alpacas, 30 llamas, 20 goats and a flock of runner ducks occupy seven barns on Ross Ranch's 23 acres, at 1504 Collar Price Road.
"We had a couple of incomes and no children, and we wanted to start a nice little agricultural business," said Gail, who works as a nurse at Northside Medical Center by day. "I don't have a strong agricultural background, but you learn as you go."
Paul, who retired from Delphi about five years ago, spends most of the day maintaining the farm. But, really, there's no such thing as a typical day at Ross Ranch, Paul said, and so he takes on whatever comes up, whether it's cleaning the barns or putting up fencing.
"There's always something that needs done," Gail said. "We have a big, long list of things."
Gail and Paul said they've always loved animals SEmD a necessity for farm work. It keeps them busy, they said, but taking care of the animals on Ross Ranch is an enjoyable pursuit and one that was "not that hard to learn to do," Gail said. They relied heavily on seminars, books and the Internet.
Alpacas and llamas originated in South America, and are members of the camelid family, which also includes camels.
Alpacas, however, are considerably smaller than llamas, each weighing about 150 pounds to a llama's 300, and they have triangle-shaped ears, which are markedly different from a llama's banana-shaped ears, Gail said.
Both are also shorn once a year, which Gail said is the most physically demanding part of the job.
Generally, alpacas have more and better-quality fiber; unlike llamas, they were bred for their fiber, which is lighter and more durable than sheep's wool. In addition, fiber from alpacas and llamas lacks lanolin, a natural oil found in wool, making it less likely to cause an allergic reaction, Gail said.
Alpacas and llamas eat the same thing — hay is a staple of both diets, although llamas eat considerably more — and they'll generally approach humans, especially if tempted by a treat. Shortcut carrots are a favorite snack.
"Like everything else in this world, you get what you put in," said Gail, who added that all the farm's animals are relatively friendly, thanks in part to extensive training. They're easily startled and don't like being grabbed, but will spit only when provoked.
Most of the animals at Ross Ranch were born and trained there, Gail said. All animals are registered — and named. The couple keeps a running list of interesting names, many of which are from songs, movies or mythology.
For example, Chantico is an 8-year-old medium fawn female alpaca who was named for the Aztec goddess of hearth fires. She's also for sale, available for viewing on the farm's website.
Gail and Paul have sold about 20 of their animals so far this year, and to customers as far away as Germany. Most alpacas and llamas sell for between $1,000 and $2,500, but pet-quality animals can go for much lower — a few hundred dollars at most.
Gail cautioned against buying alpacas or llamas from an auction, even though the lower price tag might be more appealing.
"You need to buy from a reputable farm that's going to help you, mentor you," she said. "You want to start out with a strong support system. You don't want to go to someone's liquidation sale — they're getting out of the business."
The initial investment to start an alpaca farm is fairly minimal, Paul said, adding that there are more alpacas in Ohio than in any other state. It's a good climate — not too hot, not too cold.
Land is a necessity, but five or six alpacas or llamas can be kept on one acre. The land must be zoned for agricultural use, though. "You can't keep alpacas in your backyard in Hubbard," Paul said.
A barn and a little bit of fencing can be acquired for a couple of thousand dollars and a few hundred dollars, respectively, and a small herd will run about $5,000. Daily maintenance is $1 for the farm's alpacas and $1.50 for its llamas, Paul said.
Ross Ranch is open by appointment, and Gail and Paul said they're always interested in visitors to the farm or to their store, which sells alpaca products and gift items.
"People just like the animals. They like to feed them and pet them," Gail said. "You just have to give us a call."