In July, congested 680/224 will become more chaotic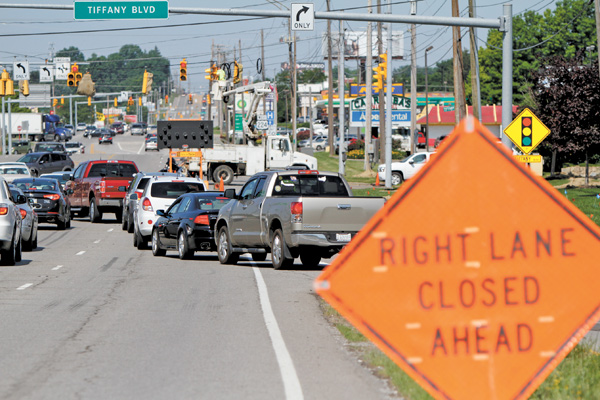 ---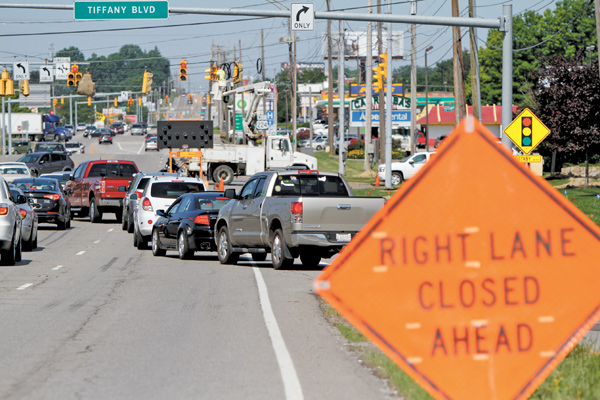 Photo
Lane closures both east and west on U.S. Route 224 create backups near the intersection with Interstate 680 last week. Get ready for worse. Extensive road work beginning in July will see more closures and longer delays at the same location.
By Lee Murray
TheNewsOutlet.org
BOARDMAN
The troubled intersection of Interstate 680 and U.S. Route 224 is about to get worse before it gets better.
Lane restrictions, ramp closures and road work are scheduled for a bridge-widening project there that will last two years.
Public officials, drivers and business owners are concerned about the project's impact.
"I'm trying to be optimistic," said Kelly Wolford, manager of Inner Circle Pizza on Boardman-Poland Road, "but its going to be a disaster. It's already a disaster in this area, and we're just adding more congestion."
The project is intended to alleviate congestion and improve safety. Justin Chesnic, public information officer at the Ohio Department of Transportation District 4, said in an email.
A new traffic signal-controlled intersection will improve safety on the exit ramps, he said.
"This is a huge safety upgrade," said Chesnic. "Currently, once traffic exits southbound ... they have to merge into heavy traffic on U.S. 244 [westbound] which has caused some accidents."
The bridge will be widened to give traffic more room and to eliminate dangerous merging.
Business owners are worried about the impact the road work will have as motorists start to plan alternate routes to bypass the inevitable delays as the work begins in earnest in July.
"I'm sure it will impact some businesses," said Boardman Township Trustee Tom Costello. "But Boardman is very resilient, and folks always seem to find a way around these problems."
"Something needed to be done to alleviate that and make it safer," he added.
"But parts of Boardman will be snarled up for a while, and that's going to be difficult."
Chesnic said there will be 10 days of ramp closures and ongoing lane restrictions, and ODOT would distribute brochures to local businesses to let them know the project details.
It's impossible to know exactly what kind of impact the massive project will have on traffic until work begins, said Boardman Police Chief Jack Nichols.
"There's not much we can do to prepare for this," said Nichols.
"It'll be a mess down there, and that's how it will be. Any time you have stopped
traffic on the freeway, that's a bad thing," he said.
Some drivers already are preparing alternative routes.
Mike Collins commutes from Cleveland to Youngstown every day for work.
"I travel around the whole city, and I often come up U.S. 224," he said. "It's usually the easier way, but maybe I'll have to start using Route 11, or figure out another way."
Collins said that he is concerned that alternative routes could become congested too.
"This is going to affect a lot of people, and if all the traffic is taking the same shortcut, it's going to make everything else backed up eventually," Collins said. "Initially, it will involve some hassle and inconvenience. But if it's going to make it
ultimately safer, then that's a good thing."
"At the end of last week, you couldn't even get through there," said Kathy Sovik of Boardman Township in describing the preliminary work.
"We live across the road but I suppose we'll have to find another way now."
Some business owners with locations near the intersection said that the delays could impact them.
Inner Circle Pizza's manager Wolford said last week's work went smoothly and did not create any significant access problems for the pizzeria. But she expects that to change once work starts.
"We're worried that people might bypass or avoid the area altogether to avoid waiting in line," she said.
"We're talking two years here, to take out the bridges and everything. It's not just us [who could lose business]. It's going to be difficult for everyone along this whole strip."
A nearby salon owner said that the spinoff effect wouldn't just be financial.
"I'm concerned that delays might make people miss their appointment times, which would have run us late here for the rest of the day," said Michael Koutsourais, who runs Concepts Spa and Salon on Tiffany Boulevard with his wife, Carol Koutsourais.
"I understand it's one of those things that has to be done. I just wish they could do the work at night and cause us as little inconvenience as possible," he said.
Other businesses in the area were more optimistic. Angela Tofilski, manager of Classic Bakery, said she'd been busy all week despite the preliminary road work.
"You can't stop people from getting their sweets," she said.
Alison Straub Zabel, president of NTense Workout on Boardman Poland Road, said that she doesn't foresee any problems for her business either.
"We're a member-based facility, and none of our employees take I-680," Zabel said. "I haven't seen any change at all."
TheNewsOutlet.org is a collaborative effort among the Youngstown State University journalism program, Kent State University, University of Akron and professional
media outlets WYSU-FM Radio, The Vindicator, The Beacon Journal and Rubber City Radio, both of Akron.