Foley looks to add seven more Youngstown cops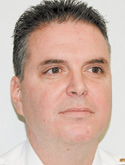 Photo
By Joe Gorman
YOUNGSTOWN
Having already added 17 officers since he became police chief in 2011, chief Rod Foley is bringing on seven more by the end of this month.
Foley said the seven will be named once they pass the necessary background checks and physical.
And that's not all, the chief said. He said there may be a couple of more later this year in addition to the seven he is bringing on at the end of June.
Five of those officers are having 75 percent of their salaries paid for by a federal grant for police departments to hire veterans of the Iraq and Afghanistan wars. The grant will cover that portion of their salaries for three years, and the department must keep them on for a year after that, under the terms of the grant.
The department hired two officers under that grant in October.
Foley said the latest hires are to help offset a wave of retirements the department is experiencing this year in the patrol division. He said the department has 145 officers, and he wants to keep the number in the patrol division at a minimum of 152.
After the seven are added, a couple of more retirements also are expected by the end of the year, so more officers probably will be brought on to make up for those losses, Foley said.
"We're losing guys left and right," Foley said.
Foley said the 152 officer benchmark is important because it allows for enough officers on the streets to do patrol work on their beats instead of just answering calls.
"It seems to work well for our staffing levels," Foley said of the benchmark.
Councilman L. Nathaniel Pinkard, D-3rd Ward, and head of council's Safety Committee, said he is not concerned about such a high turn over in officers because the department does a good job of bringing officers along.
"I feel the mechanism is in place to bring them up to speed because he [Foley] has been bringing them along pretty slowly," said Pinkard, former chief of Mill Creek MetroParks Police.
Pinkard said he believes the department also has enough veteran officers to help the new officers get used to the job.
All new patrol officers are assigned a Field Training Officer on each shift and they work with those officers for several months before being assigned beats on their own.
Pinkard said he also expects to see new officers hired because more officers are retiring, especially those who enrolled in the Deferred Retirement Option Program, or DROP.
The department ran a massive publicity campaign in the fall for the civil service entrance exam to attract candidates to apply for the department.
They were looking for more candidates who are minorities, women or city residents.
Foley said just about every officer who can works the road. He said there are very few administrative jobs in the department with officers who do not have a patrol assignment.
"It's pretty much all hands on deck," Foley said.