Northside to get $20 million expansion, renovation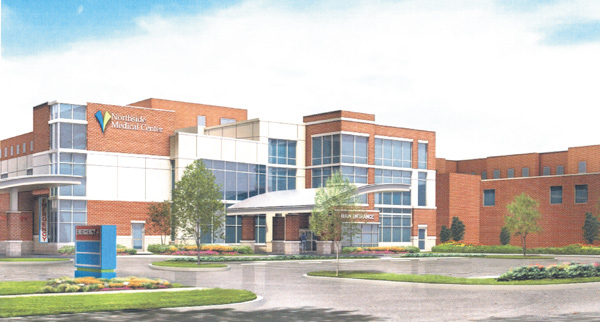 ---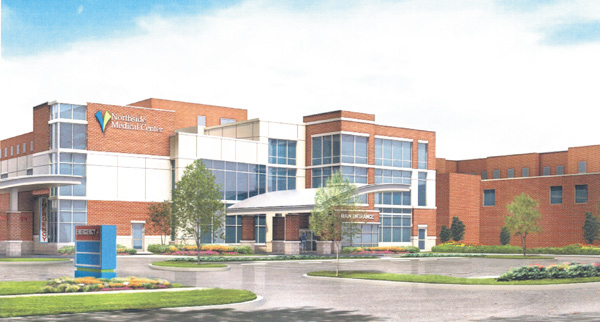 Photo
This is an artist's rendering of what the new entrance to Northside Medical Center will look like when a $20 million project to expand the emergency department and create a new entrance to the hospital is complete late in 2014.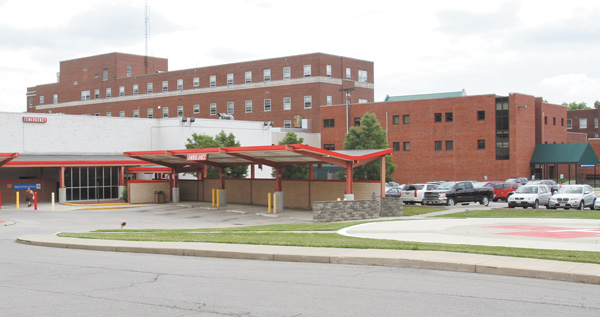 Photo
A view of the current entrance to the emergency department at Northside Medical Center on Gypsy Lane, Youngstown.
By WILLIAM K. ALCORN
alcorn@vindy.com
YOUNGSTOWN
ValleyCare Health System of Ohio will break ground in July for a $20 million expansion and renovation project at its Northside Medical Center on Gypsy Lane.
ValleyCare said the project will expand patient-care resources and be the largest infrastructure investment at Northside since 1998. Construction is expected to be complete in late 2014.
It is part of the five-year, $80 million capital commitment promised when Forum Health, of which Northside was a part, was purchased out of bankruptcy by Community Health Systems in October 2010.
The new project includes a 30,000-square-foot, three-story tower that will expand the Emergency Department and create a new main entrance to the hospital. Also, more than 28,000 square feet of the current hospital will be updated, according to a ValleyCare news release.
"These improvements will enhance our No. 1 priority, delivering quality care to our patients," said Kirk Ray, ValleyCare chief executive officer. "These changes also will support our dedicated health-care professionals by making hospital resources more accessible and efficient."
Nearly 70,000 patients sought care through ValleyCare emergency rooms in 2012, almost 30,000 at Northside alone. ValleyCare also operates Trumbull Memorial Hospital in Warren, Hillside Rehabilitation Hospital in Howland, and several outpatient facilities in the Mahoning Valley.
Updates to Northside's emergency department, a designated Level III trauma center, will support prompt assessment, resuscitation and stabilization of injured patients.
Also, noise will be reduced, and patients will have more privacy through the creation of 21 private examination and trauma rooms.
Improvements will continue Northside's commitment to serve patients in 30 minutes or less and enhance the quality of care that earned the hospital accreditation as a stroke center and accredited chest-pain center, Northside officials said.
"Northside has served the residents of the Mahoning Valley for more than a century," said Sandy Kessler, Northside Medical Center board chairman. "With these developments, it will be positioned to continue care for another 100 years."
In the three-story addition, the most-visible component is a new main entrance that will serve as a central location from which patients and visitors access hospital resources.
A new first-floor lobby will include registration, pre-admission testing, waiting rooms, a gift shop and an information center. The addition also will improve patient convenience by extending the hospital closer to the current garage that offers ample covered parking, officials said.
Surgical services will be combined in a single location by moving outpatient surgery to the second floor adjacent to the surgery suites.
The addition of 21 private-patient holding rooms will streamline the surgical experience for patients and providers. On the third floor, endoscopy services will be enhanced with a new waiting area and the addition of two endoscopy suites and a bronchoscopy room, Ray said.
Bronchoscopy is a procedure that allows a doctor to look inside the lungs' airways for diagnostic and therapeutic purposes.
Since 2010, ValleyCare has invested about $50 million to improve hospital facilities, such as the ongoing transition to private-patient rooms, update technology, add new medical equipment and recruit physicians.
Plans are being finalized to ensure patient comfort and access for all who come to campus throughout the process during the construction period, officials added.