New historical marker revealed on West Federal Street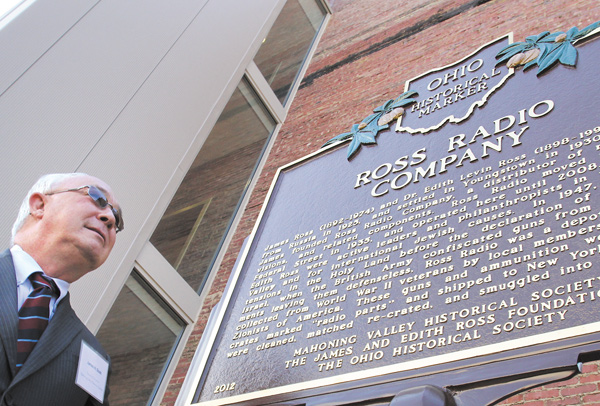 ---

Photo
James H. Sisek, Mahoning Valley Historical Society member and capital campaign co-chairman, helps to unveil an Ohio Historical Society marker Tuesday at the Tyler Mahoning Valley History Center.
By Lee Murray
TheNewsOutlet.org
Youngstown
The Mahoning Valley Historical Society unveiled a new historical marker Tuesday on West Federal Street that recognizes the historical significance of two businesses.
Both had occupied the building that is now the site of the new Tyler Mahoning Valley History Center.
The building was at one time owned by Harry Burt, a confectioner who invented the Good Humor Ice Cream Bar, and later owned by James Ross, an electronics wholesaler who also played a part in trafficking guns to Jewish settlers in Palestine via New York.
Burt owned the space from 1921.
"Harry Burt purchased the space and remodeled it to be a confectioners and bakery with an eating area," said Leann Rich, the society's manager of education.
Rich said the Good Humor Ice Cream Bar, a chocolate-covered ice cream bar with a stick handle, was created in that building.
Burt died in 1926, and his wife kept the operation going for a while locally. Eventually investors took over and turned it into a national brand.
Ross bought the space in 1935.
"Ross had an electrical wholesale business that sold parts for radios, and that company went on till 2008," said Rich. "And he was very active in Jewish causes and charities."
For a time after World War II, Ross stored weapons from the war and marked them as radio parts as part of an operation that then shipped them to Palestine to aid Jewish settlers.
The historical society purchased the building in 2008 and has renovated it throughout. The society's executive director, Bill Lawson, said that the history of the building is important to Youngstown.
"We've been living [these stories] since 2007, developing the renovation plan and getting the building ready," said Lawson.
"The renovations are complete, and it's available for rentals and special programs," said Lawson, adding that he hopes the building will be open to the public soon.
The Ohio Historical Markers Grant Program has helped pay for markers across Ohio since it was established in 2006. The program awarded $750 for the installation of the marker, Lawson said. All Ohio markers are made by Sewah Studios in Marietta, Ohio.