Scott Walker, 33, charged with murder of 4-year-old Bazetta boy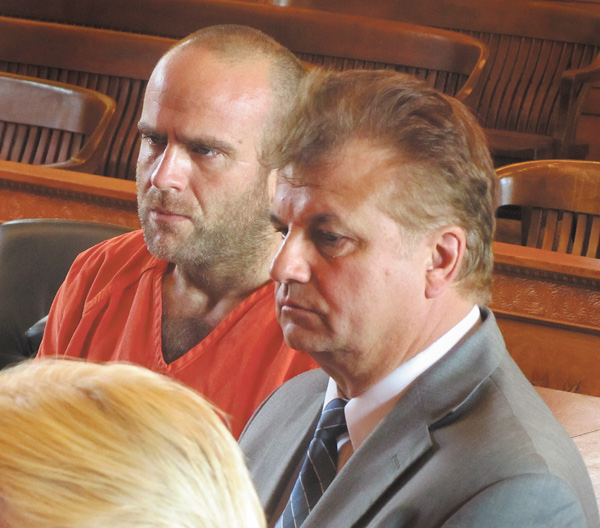 ---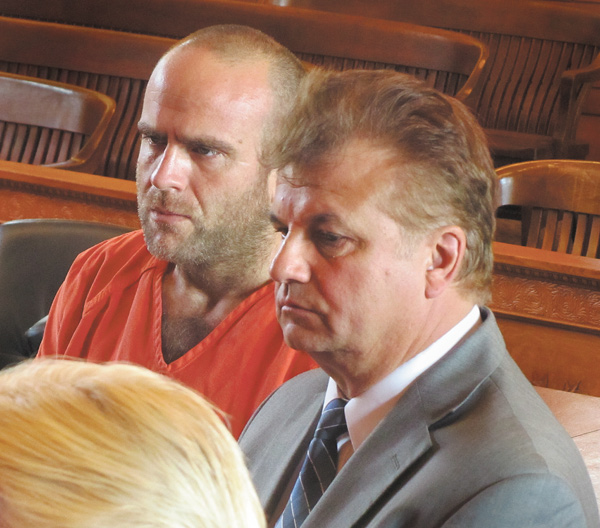 Photo
Scott H. Walker, left, of Bazetta Township stands with Matt Pentz of the Ohio Public Defender's Office in court Tuesday.


Photo
By Ed Runyan
WARREN
Scott H. Walker, 33, of Bazetta Township and Champion, is charged with murder in the Saturday morning death of his girlfriend's 4-year-old son, Nicholas Partin of Bazetta.
Police arrested Walker on Monday night in Packard Park after the Trumbull County coroner ruled the boy died from blunt-force trauma to his abdomen. He had a teardrop-shaped bruise in the area of his belly button.
Emergency personnel from Bazetta Township were called to the home at 2910 North Park Extension near Everett Hull Road at 3:15 a.m. Saturday. Bazetta police officer Donald Utterback arrived first and began life-saving measures until paramedics arrived, but the boy was pronounced dead later at ValleyCare Trumbull Memorial Hospital.
His mother, Jennifer Light, told police that Walker, her live-in boyfriend, had punched the boy in the stomach Friday night. She said Nicholas said "ouch" and doubled over.
Detective David Morris of the Cortland Police Department, part of the Trumbull County Child Homicide Investigative Unit, interviewed Walker after he was arrested Monday, telling Walker that the boy died of a blow to the stomach.
"I didn't mean to do it," Walker said in reply, according to an affidavit filed with Trumbull County Common Pleas Court.
Walker denied striking the boy with a closed fist but demonstrated to the officer that he hit the boy with a backhanded blow, the affidavit said.
Walker also had a bruised and swollen knuckle on the back of his right hand, according to the affidavit.
The boy's mother initially told emergency personnel that Nicholas had ingested carpet cleaner Friday afternoon and that she had taken him to a hospital, but she later admitted the boy had not been taken to a hospital.
Walker, who was convicted of attempting to carry a concealed weapon in May 2012 in Trumbull County, appeared Tuesday afternoon in common pleas court for a murder charge filed by county prosecutors.
No plea was entered, but Judge Andrew Logan set bond at $500,000, and Walker remained in the Trumbull County jail. He returns to court at 9 a.m. June 26 for a preliminary hearing unless a grand jury indicts him before then, Judge Logan said.
Walker wasn't required to speak during the hearing and stood with an attorney from the Ohio Public Defender's Office. Judge Logan said the possible penalty on the murder charge is 15 years to life in prison.
Utterback found the boy on the island counter in the kitchen when he first arrived. He found no pulse.
Nicholas lived at the North Park address with his mother, Walker, his 8-year-old brother and his grandparents, Wanda and Ralph Nussbaumer, according to the affidavit.
Walker lived at 5577 Shaffer Road in Champion when he was convicted on the weapons charge in May 2012. He pleaded guilty to the charge and was placed on five years' probation.
Nicholas' obituary says he was born in Johnson City, Tenn. Services will be at 11 a.m. Friday at Carl W. Hall Funeral Home in Warren, with calling hours from 9 to 11 a.m.
Detective Joe Sofchek of the Bazetta Police Department said the homicide is the first in the township in many years, though two bodies have been found in the township more recently.
A couple taking a walk found the skeletal remains of Dozie A. Blackmon Sr., 37, of Warren along an isolated part of Geauga Portage Easterly Road in Bazetta Township June 14, 2008, a couple of months after Blackmon went missing. Bazetta police believe Blackmon was killed outside of the township.
Bazetta police also found the remains of a man in Mosquito Lake State Park near the dam on state Route 305 in July 2006. The identity of the man was never determined, and Sofchek said it is not known whether he died there or somewhere else.