Rombauer Vineyards rep will visit Valley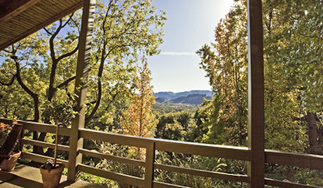 ---
If You Go...
What: Wine Academy: An Evening with Rombauer Vineyards
When: 7 p.m. June 27
Where: Avalon Golf and Country Club at Squaw Creek, 761 Youngstown-Kingsville Road, Vienna
Reservations: Open to the public; reservations required
Information: Log on to www.myvalleyvino.com
By Brian Fry
One of the drawbacks of living in a smaller market like the Mahoning and Shenango valleys is that you usually have to drive to Cleveland or Pittsburgh to enjoy a top-quality wine and food event. This is especially true if you want to wine and dine with the people from the winery, hear their stories and share conversation about their wines.
On June 27, an event in our Valley will give everyone this special opportunity. Local wine club Valley Vino is teaming up with Clyde Gilbert from Rombauer Vineyards to host the event, featuring the incredible wines from Rombauer's esteemed portfolio. The event is open to the public and takes place at Avalon Golf and Country Club's Squaw Creek location.
"Our philosophy is to keep it simple and focus on our four nationally distributed wines: chardonnay, merlot, zinfandel and cabernet. This ensures that these wines will be high quality, vintage after vintage."
The Rombauer philosophy has worked well since the winery was founded in 1982. It is family-owned and operated. Rombauer family members hold key positions throughout the organization, especially in the winemaking and viticultural aspects.
The Rombauer family name holds a distinctive place in culinary history as well. Irma Rombauer wrote one of the most famous cookbooks ever published: "The Joy of Cooking." The Rombauer family tree has its roots in the Rheingau region of Germany, where wine is considered an essential part of each meal.
Although the entire Rombauer portfolio is respected globally, its chardonnay is truly an international phenomenon. In fact, the wine is so coveted that it is tightly allocated, meaning distribution is controlled so it doesn't all get swallowed up as soon as it is released. Gilbert says it is truly an honor to represent the sought-after white wine.
"The Rombauer family has created a taste profile that has yet to be duplicated. It took a decade to perfect. The combination of great grapes, oak and malolactic fermentation make this wine incredibly desirable to the consumer."
Here's a look at Rombauer's spectacular portfolio:
2011 Carneros Chardonnay
Enticing aromas of honeydew, peach and fig mingle with notes of caramel and vanilla. Creamy vanilla integrates with honeysuckle, apricot and pineapple on the palate. A rich and luscious mouthfeel leads to an extensive creamy finish.
2008 Carneros merlot
Subtle hints of cherry and mint on the nose. Lush plum, cedar and a hint of blackberry lead to a silky and lingering finish.
2011 zinfandel
Strikingly fruit-forward in style with intense flavors of ripe cranberry, blueberry and raspberry in abundance. Expressive and dense on the palate with a plum-vanilla finish.
2010 Napa Valley cabernet
Aromas of black currant, tobacco, olive and plum dance out of the glass. Dark berry fruits evolve across the palate, leading to a dense and smooth finish.
about VALLEY VINO
Contact Brian at brian.fry@myvalleyvino.com or by visiting www.myvalleyvino.com.
On vindy.com: Stay up to date with Brian's tastes and travels 24/7.
More like this from vindy.com