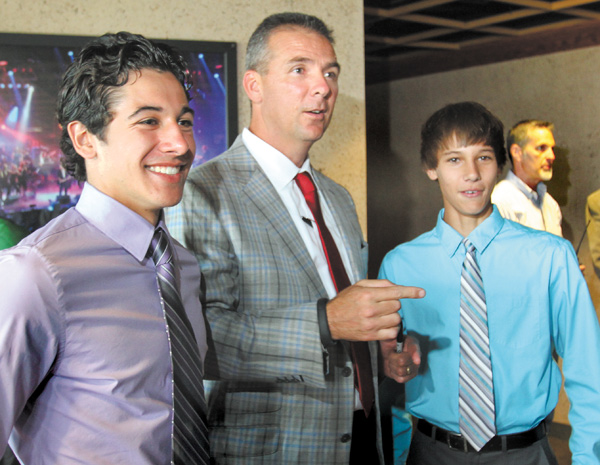 ---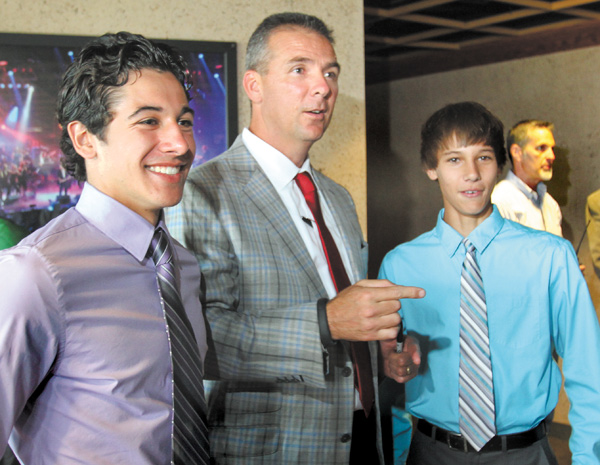 Photo
Ohio State football coach Urban Meyer talks with Andrew Wollet, 17, left and his brother Alex Wollet, 14, both of Poland, during the United Way's "Champions Among Us" dinner Monday at the Covelli Centre in Youngstown. Meyer was the keynote speaker at the event, which is the agency's biggest fundraiser.
OSU's MEYER pays tribute to valley's talent
By Greg Gulas
YOUNGSTOWN
Fresh off an undefeated sea son in his first year at the helm of the Ohio State Buckeyes, head coach Urban Meyer had approximately 780 requests for appearances during his initial offseason.
Local entrepreneur Sam Covelli, owner/operator of Covelli Enterprises which owns and operates Panera and O'Charley's restaurants, and a major Ohio State donor, made sure that one of those stops included the United Way of Youngstown and Mahoning Valley's fund-raising kickoff dinner.
Speaking to more than 800 guests that gathered Monday for the "Champions Among Us" dinner at the Covelli Centre, Meyer called last year's Buckeyes' senior class as good a group as he has ever been around and the key to their 12-0 campaign.
"Last year, we never had a conversation about not being bowl eligible," Meyer said. "That senior class bought into what we had to offer and one of those seniors was local product John Simon.
"What we'll miss most about John is his leadership and the way he completely bought into our system," Meyer said. "He was a big reason that we were able to go undefeated."
Simon, a Cardinal Mooney High graduate, was selected by the Baltimore Ravens in the fourth round of April's NFL Draft.
Meyer also called attention to other area Buckeyes players, including Boardman's Corey Linsley and J.T. Moore and incoming freshman Billy Price of Austintown Fitch.
"Corey is the apex of our offensive line and while I didn't know much about J.T. [Moore] when I took over, he had an excellent spring and will become more involved in our special teams this season," Meyer said. "He has become one of my favorite players to be around."
Meyer said the Mahoning Valley has always been very important to Ohio State, adding that Price should see playing time as a freshman.
"This area is very unique in that there is an absolute toughness about a player that comes out of Northeastern Ohio," Meyer said. "As for Billy, if he didn't commit so early the national cameras would have been on him to see which cap he would put on his head on national signing day."
John Greco, a former Boardman High School and University of Toledo standout who plays for the Cleveland Browns, was one of four local athletes honored with Local Champions Awards.
The others were Youngstown State University quarterback Kurt Hess, Poland High and Kent State University football safety Luke Wollet and Cardinal Mooney High School and University of Pittsburgh soccer player Ashley Cuba.
Greco, who is involved with United Way functions, was a third-round selection of the St. Louis Rams in 2008. He started 10 games last season for the Cleveland Browns and finished among the highest-ranked guards in the league for blocking percentage.
"It's always nice to come back home, and to do a benefit like the United Way's Champions Among Us dinner is an added bonus," Greco said. "I was truly humbled to get the invite."
Cuba, the first woman to be honored at a Champions dinner, was a first-team All-American last year for the Panthers, owns nearly all of Pitt's scoring records and is being sought after by several European professional teams for her services.