Troopers at two posts increase drug arrests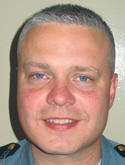 ---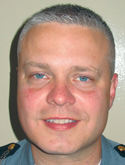 Photo
By Joe Gorman
YOUNGSTOWN
Ohio State Highway Patrol troopers at the Trumbull and Columbiana County posts have posted more drug arrests in the first six months of 2013 than they did last year while Mahoning is lagging behind.
Commanders of the posts in Southington, Lisbon and Canfield also said they are doing more with less, as all three posts are experiencing a shortage of troopers.
Lt. Brian Holt, who heads the Southington Post, said troopers were given a new emphasis at the beginning of the year as authorities in Columbus gave troopers across the state a new mandate to look for more drug and firearm offenses as well as concentrate on more operating-a-vehicle-impaired arrests, instead of only looking for traffic infractions.
Statistics provided by the patrol show that Southington's troopers have recorded 112 drug violations or arrests through June 10. In the same time frame in 2012, 67 such cases were reported.
Holt said troopers have received increased training for making more of those traffic stops, and it has paid off.
"I was fully expecting this," Holt said.
His troopers also have eight more felony arrests this year than they did at the same time last year and have seized two more weapons as well.
Holt said the focus on guns and drugs will continue throughout the year.
In Lisbon, post commander Lt. Joe Dragovich said his post is unusual because no major interstate cuts through it. The two major roads are state Routes 7 and 11, which means most of their drug seizures are on the rural roads.
So far in 2013, Lisbon Post troopers have recorded 24 drug violations, compared with 13 during the same time frame in 2012. They also have seized three weapons as compared to none in 2012 during the same time and have the same number of felony arrests at seven.
"We're having more success in the rural areas," Dragovich said.
Dragovich said his post has benefited from having troopers who have a knack for finding drugs and guns, and that has been a big reason why their numbers are up so far this year.
Dragovich said enhanced training is paying off and the statistics show it.
"It's a new mindset now," Dragovich said.
In Mahoning County, Sgt. Michael Wilson of the Canfield Post said his post as of June 10 had 60 drug violations recorded, as opposed to 104 during the same time frame in 2012.
He said bad weather has hampered interdiction efforts because troopers often have to handle a lot of accident calls and do not have time for patrol. Also, drug dealers may be taking different routes through the county or avoiding it, and the manpower at the post is low.
All three officers said their posts have fewer troopers to work with than last year.