Old autos, young fans mix at holiday car show in North Lima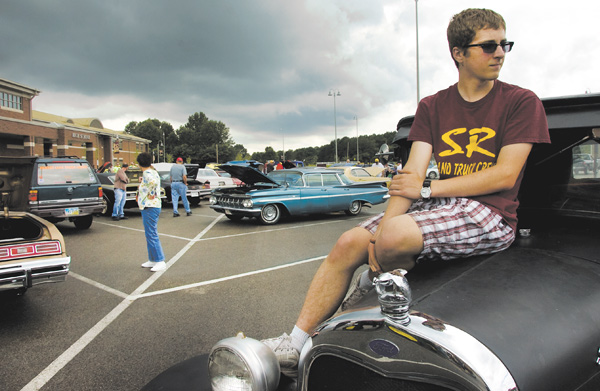 ---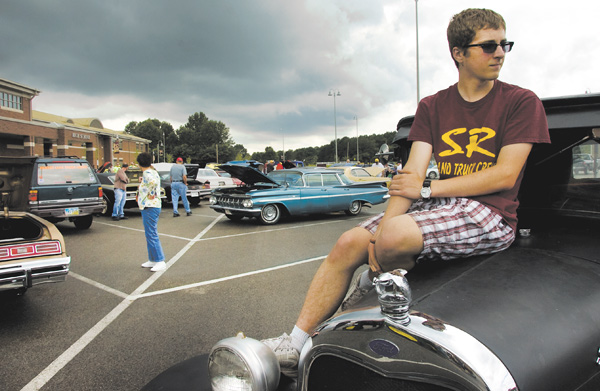 Photo
Anthony Marsilio, 16, a South Range High School junior, sits on the hood of his 1929 Ford during the Ninth Annual Father's Day Car Show at South Range High School. Marsilio was showing the car with his father, Hank, who taught him how to drive vintage vehicles.
By Sean Barron
NORTH LIMA
Like many teenagers, 16-year-old Anthony Marsilio enjoys driving his first vehicle to school and elsewhere, along with the freedom of being behind the wheel.
But unlike many youngsters, Anthony has to crank-start his two-door car, which lacks a compact-disc player, satellite-radio capabilities and nearly all other modern amenities.
After all, Anthony's car is more than five times older than him.
"My dad taught me to drive one," the South Range High School junior said, referring to his black 1929 Ford Model A vehicle, which features a four-cylinder, flathead engine and whitewall tires.
Anthony's classic car was one of the oldest in Sunday's ninth annual Father's Day car show at South Range High, 11300 Columbiana-Canfield Road (state Route 46).
An estimated 50 classic, vintage and modern cars and special-interest machines such as tractors were the attractions of the four-hour gathering, noted Linda Kappler, an event organizer. The Beaver Township Ruritan Club hosted the show. Anthony's father, Hank Marsilio, has an identical vehicle in which the younger Marsilio learned. Anthony found his Model A online and bought it from a private owner in Akron, he said, adding that he performs much of its maintenance.
The car, which gets 10 to 15 mpg, has original parts that include gears and the steering wheel, he explained.
Unlike Anthony's Model A, most of Tom Jarrett's bright-yellow 1957 BMW Isetta vehicle was until recently little more than a series of parts.
"I decided to work on it last winter," the Austintown man explained.
"I cut it in half and put in a modern 600 cc [cubic-centimeter] fuel-injected Honda Silverwing engine."
As a result, the two-seat vehicle resembles a combination car and motor scooter. In addition, it weighs about 850 pounds, has a 60-horsepower engine and roughly 13,000 miles, said Jarrett, noting that only about 3,500 such cars were made during a four-year period in the mid- and late 1950s.
Nevertheless, Jarrett's wife, Norma Jarrett, owns a 1956 Isetta.
Tom Jarrett, who spent 25 years racing cars, also brought to the show his rebuilt synergy-green 1970 Volkswagon Beetle.
Other vehicles on display included a maroon two-door 1974 Corvette Stingray, a blue 1941 Plymouth Deluxe, a bright-orange Chevrolet Camaro with black stripes on the hood and rear, and a 1976 hardtop Chevrolet Impala, one of seven Don Clark of Boardman owns.
"I bought the car as-is, but did minor detailing to keep it looking nice," said Clark, who retired from having taught automotive classes at Maplewood Joint Vocational School in Ravenna.
The four-door vehicle he brought to Sunday's show features a sport interior, gets 21 to 23 mpg on the highway and has a four-speed automatic engine, he noted.
Clark recalled having worked at a Boardman auto-body shop at age 12, as well as later performing such work part and full time while he taught at Maplewood.
His love of vehicles revved up when, as a fifth- or sixth-grader, he read two books at his school library on the subject, Clark continued.
Now he has a library containing about 800 volumes pertaining to vehicles and related trades associations, Clark said proudly.
The Father's Day car show also featured a gift-basket raffle, awards and oldies music.