Longtime dance instructor hangs up the dancing shoes
Tony Romeo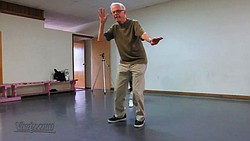 Video
Longtime Valley dance instructor Tony Romeo talks about his 58 years in the business.
BOARDMAN
Erinn Vranches has been dancing under the instruction of Tony Romeo since she was 3.
Nearly 30 years later, she danced alongside Tony Romeo for what might be the final time as she put the finishing touches on her routine for the studio's annual dance recital Thursday at Canfield High School.
Romeo, 88, is calling it quits and will retire Thursday after teaching dance in the area for 58 years.
"He's a classic," Vranches said. "They don't make them like him anymore."
Once Vranches finished stretching, before her one-on-one with Romeo on Wednesday evening, there was no time to waste. It was right into her routine. She's been working on it all year, a jazz number to Bon Jovi's "It's My Life." The song is strong, Vranches said, and helps describe who she is as a person.
Romeo cues the music and makes his way next to Vranches. He doesn't miss a beat as he dances the routine with her.
The music intensifies and the sweat begins to bead on Vranches' forehead as she prepares for a jump that she can't seem to nail. Romeo claps his hands at her, hoping for a response.
"Can you help me with the jump?" Vranches asks Romeo.
She steps aside and Romeo crouches toward the ground, turns to his right and makes his way into the jump as if it were his routine.
"[Dancing] has kept me healthy," Romeo said. "I love my work. That's why I'm still here teaching."
Vranches' mother began taking lessons from Romeo when she was 13. Romeo then taught Vranches' older sister, and her grandmother started bringing Vranches to the lessons shortly after.
"[Dancing] is one of the great loves of my life," Vranches said. "Specifically, doing that with Tony."
Romeo has taught just about every type of dance from hip-hop to ballroom. He was inspired by Fred Astaire and Gene Kelly. He loved watching and studying them in their movies and enrolled in dance lessons as a young boy in Youngstown.
"He has a reputation for being a classic and not just doing trendy things," Vranches said. "He's danced with some of the greats."
Romeo stumbled upon dance after he took the wrong course at then Youngstown College. He took a shorthand business course and wasn't familiar with the material, so he left for New York to study dance. It was there he received the best training, he said.
He's been compared to Gene Kelly by Hollywood critics and has danced on Broadway and in other theaters across the country.
"That made my day because I think he was one of the best," Romeo said after he was told he was another Gene Kelly.
If it weren't for dance, Romeo doesn't know where he would be today, he said.
"Dance has been everything for me. It's terrific in all aspects. It keeps you young. It keeps you in physical condition," Romeo said.
That proved to be true for Romeo. To this day he credits dance as the reason he was able to recover so quickly and without pain from open heart surgery.
He went in for the procedure on a Tuesday and was back home that Saturday, he said. The nurse told him not to wait to take his pain pills after his surgery.
"I said, 'OK.' I never got the pain," Romeo said. "And that's pretty lucky when you get open heart surgery."
Romeo will be participating in his 58th and final recital Thursday at Canfield High School at 7:30 p.m.
"Dancing was never work to me. It was fun," Romeo said. "Be happy and have fun. Don't take it serious."
After Romeo retires, Vranches said she will move on to other passions she carries with her, such as ballroom dancing.
"I can't imagine having another experience like this with anyone else," Vranches said.