2 distinguished black women honored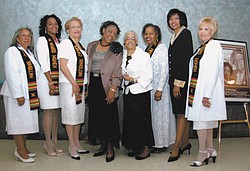 Photo
SPECIAL TO THE VINDICATOR At its Women of Distinction Luncheon recently, the Youngstown Section of the National Council of Negro Women honored two local women. Those participating in the award ceremony were, from left, Donna Wynn, financial secretary; Sandra Britt, first vice president; Yvonne Wilson, president; honorees Lynn Phillips and Geneva Mason; Karen Jackson-Cooke, past president; Ruthie King, speaker; and Audrey Gillian, corresponding secretary.
Staff report
HUBBARD
At its Women of Distinction Luncheon recently, the Youngstown Section of the National Council of Negro Women Inc. recognized two women for their contributions to the community.
Geneva Mason and Lynn Phillips each received the Bethune-Height Award along with roses and a string of pearls. Ruthie King of Price Memorial AME Zion Church spoke, and the Rev. Sandra Miles provided music for the luncheon, which took place at the Brentford House.
Mason, also known as Genny, attended Youngstown State University. A member of Third Baptist Church, she serves on its Trustee Ministry and teaches Sunday school.
She is a founding member of the Junior Civic League of Youngstown and was its first president. She founded a community-wide high school sorority, CMC, and served as its adviser for 15 years before receiving honorary membership status.
Iota Phi Lambda Sorority's Alpha Nu Chapter honored Mason as 1996 Business Woman of the Year, and the City of Youngstown named her a Black Woman of Prominence.
Mason manages F.D. Mason Memorial Funeral Home, which her husband, Frank D. Mason, founded. They were married 53 years before his death. They have two sons, Frank D. Mason Jr. and Hillary (Vickie) Mason; five grandchildren and three great-grandchildren.
Phillips furthered her education at Kent State and Youngstown State universities. She also graduated from the Pittsburgh Institute of Mortuary Science. Phillips, a licensed funeral director and embalmer, is associated with L.E. Black, Phillips & Holden Funeral Home Inc.
She is a member of Mount Calvary Pentecostal Church and serves in the Women's Ministry. She also belongs to the National Council of Negro Women, NAACP, Ohio Funeral Directors Association, Tri-County Funeral Directors, Buckeye State Funeral Directors and National Funeral Directors Association.
She has received awards from Kappa Alpha Psi Fraternity, Iota Phi Lambda Sorority, YWCA, Interdenominational Clergy Women's Alliance, Black Knights, Oak Hill Athletic Club and East High School Alumni Association.
Phillips has two sons, James and Jeffrey, four grandchildren and one great-grandson.