Horsts' 60th celebrated at Niagara Falls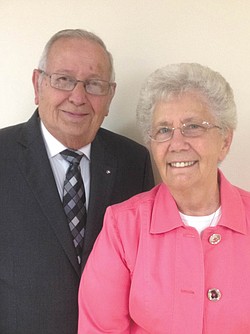 Photo
MR. AND MRS. RAYMOND HORST
COLUMBIANA
Mr. and Mrs. Raymond Horst of Columbiana were honored on their 60th wedding anniversary with a formal dinner while visiting Niagara Falls, Ontario, with their family.
Their children hosted the event.
The children are Joyce Horst, David (Deb) Horst and Jane (Timothy) Bush, all of Columbiana; and Dennis (Sherry) Horst of Dalton, Ohio.
They have seven grandchildren and two great-grandchildren.
Mr. and Mrs. Horst were married June 12, 1953, in Columbiana.
They are members of Leetonia Mennonite Church and Gideons International and they continue to work and share in the partnership of Das Dutch Haus Restaurant and Das Dutch Village Inn in Columbiana.