Storms wreak havoc on Valley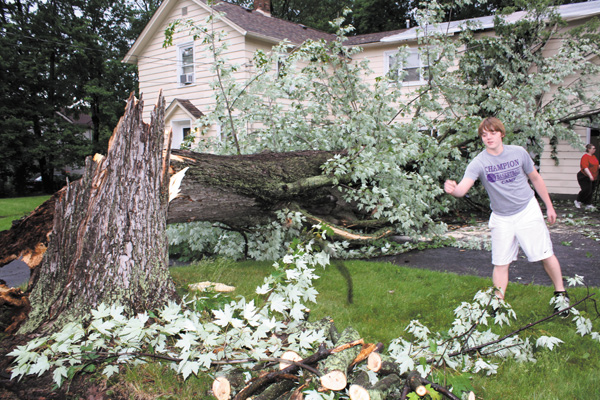 ---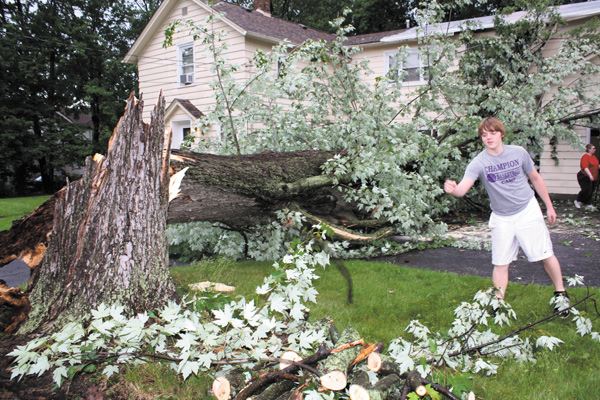 Photo
Crispin Donahue of Gates Street, Cortland, starts to clear away a large maple tree that fell on his family's house. The tree, which fell about 3 a.m. Thursday during high winds and a thunderstorm, damaged the home's roof and a car.
Staff report
When lightning struck the roof of Lowellville High School early Thursday morning, the whole building was affected by the fire, said Lowellville Fire Chief Al Boggia.
"Every room has the smell of smoke in it," he said. "There is soot everywhere."
The fire broke out shortly after 5 a.m. at the high school, which includes grades 7 through 12. It was contained to a 150-foot strip on the peak of the school's roof that extended down 2 feet on each side.
Boggia said water damage is limited to the school's second floor, but that heavy smoke damage is on both the first and second floors, which consist mainly of classrooms.
Firefighters attempted to protect computers and other technology in the building "as much as [they] could" while working, Boggia said.
Fire crews from Lowellville — as well as from Campbell, Canfield, Coitsville, New Middletown, Struthers and the Western Reserve Joint Fire District, and those from Mahoning, Neshannock, Springfield and Union townships — battled the blaze for about 31/2 hours.
The elementary school, also located in the school complex at 52 Rocket Place, was not affected, thanks to a fire wall. No one was injured.
Rocco Nero, superintendent of Lowellville Local Schools, said the district is waiting to hear from its insurance companies, which will determine the extent of the damage.
Nero said he was grateful that the fire started on the roof and was contained there, which he attributes to "an excellent job by the fire departments."
Elsewhere in the Mahoning Valley, strong winds associated with the storm were enough to knock an old maple tree into the home of Crispin and Jamie Donahue on Gates Street in Cortland at about 3 a.m. Thursday, putting a hole in the roof and smashing a car in the driveway.
"My husband heard 'pop, pop' and then a crash and then the whole house shook," Jamie Donahue said while surveying the damage.
The roof above Crispin and Jamie Donahue's bedroom was damaged. The home sustained some water damage, but no one was injured, Jamie Donahue said.
Family members moved furniture from the bedroom to keep it dry and called a company to cover the hole in the roof.
They also began to clear away the tree, which broke near the base in the family's front yard. A Geo Tracker directly under the tree was barely visible underneath the tree.
A 60-foot tall cherry tree also was felled by high winds in Liberty, damaging part of a garage and pulling down four spans of power lines on Ravine Drive.
There were no injuries, but the power lines took two hours to fix. Ravine Drive was closed for hours as several First Energy maintenance vehicles worked on restoring power.
"We had the lines back up in a couple of hours," said Bill Davis, a linesman for First Energy. "It's pretty common to see big trees come down like this, especially when it's humid."
About 1,300 Ohio Edison customers in Mahoning County, mostly in Youngstown, lost power from the storms, while another 200 customers in Trumbull County, especially in Warren, were also without power.
David H. Turner, area manager for Ohio Edison, said most outages occurred about 3 a.m. Thursday.
Turner said scattered power outages remained as of 3:30 p.m. Thursday, with fewer than 25 customers without power in Ellsworth, Coitsville and Youngstown. Fewer than five customers had no power in Trumbull County.
Power in those areas was expected to be restored by Thursday night.