US retail sales rose 0.6% in May, fueled by car purchases
---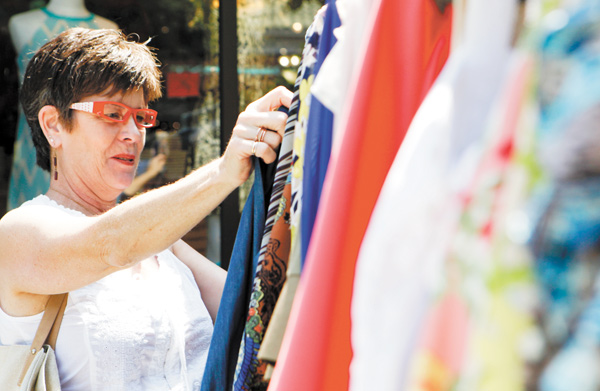 Photo
Jani McAllister browses through a sales rack outside Festivity, a boutique in Virginia Highlands in Atlanta on Wednesday. Americans stepped up spending at retail businesses in May at the best pace in three months, fueled by more car purchases.
Associated Press
WASHINGTON
Americans stepped up purchases at retail businesses in May, spending more on cars, home improvements and sporting goods. The gain shows consumers remain resilient despite higher taxes and could drive faster growth later this year.
The Commerce Department said Thursday that retail sales increased 0.6 percent in May from April. That's up from a 0.1 percent gain the previous month and the fastest pace since February.
The May gain was led by a 1.8 percent jump in auto sales, the biggest increase in six months. Excluding volatile autos, gas and building supplies, core retail sales rose 0.3 percent. That's slightly higher than the 0.2 percent April increase.
Sales increased at hardware and general- merchandise stores but fell at furniture and appliance stores.
Separately, the Labor Department said the number of Americans seeking unemployment benefits dropped 12,000 last week to a seasonally adjusted 334,000. The decline suggests steady job gains will endure.
The retail-sales report is the government's first look each month at consumer spending, which drives 70 percent of economic activity.
Solid job growth and rising home prices have allowed consumers to withstand an increase this year in Social Security taxes, which has lowered take-home pay for most Americans.
Consumer spending from January through March grew at the fastest pace in more than two years. That helped the economy expand at a solid annual rate of 2.4 percent. Most economists predict that growth is slowing in the April-June quarter to an annual rate of 2 percent or less. But many say growth will likely pick up in the second half of the year.
More like this from vindy.com