Sister Jerome honored for lifetime of work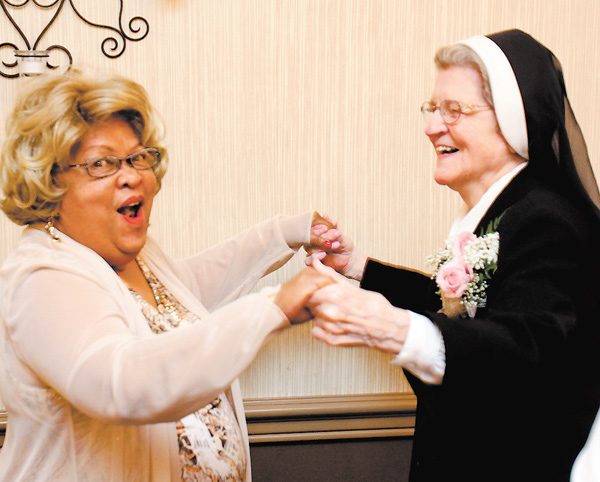 ---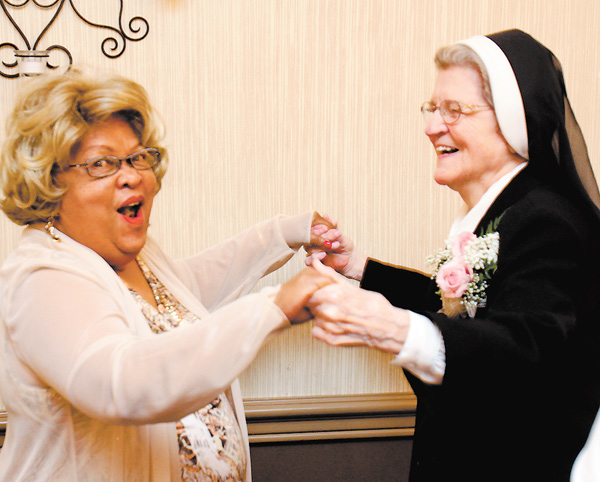 Photo
Sister Jerome Corcoran dances with Sophia Brooks at an event in Canfield to honor the nun. The Ethnic Heritage Society of Youngstown presented Sister Jerome with a lifetime achievement award Thursday evening.
CANFIELD
The guest of honor had a hard time moving around the packed reception hall with guests wanting to talk with her, sharing memories, laughing or sometimes just giving her a quick hug.
Those who wanted to recognize the work of Sister Jerome Corcoran provided a common story. She had helped them when they where younger and then pushed them to volunteer to help others as they got older.
The Ethnic Heritage Society of Youngstown presented Sister Jerome with a lifetime achievement award Thursday at A La Cart Catering.
Sister Jerome's career as an educator spanned decades in the Mahoning Valley. She taught for 12 years in the area's parochial schools, then for 36 years directed the Mill Creek Children's Center, a preschool for children of lower-income working parents.
She also was founder of the Millcreek Community Center and Youngstown Community School.
Ruth Lind Yurchich was a fourth-grade student in Sister Jerome's class at St. Nicholas School in Struthers.
"She was a novice at that time. She hadn't even taken her vows," Yurchich said.
The two reconnected years later when Yurchich was taking care of her husband after he suffered a stroke, she said.
"One of the ladies who worked with her at the school saw me and I told her to tell Sister Jerome I said hello," Yurchich said. "It was the next day I got a call from Sister Jerome, and she asked me about my brother."
Yurchich said she couldn't believe that Sister Jerome remembered her older brother. During the conversation, the sister asked Yurchich to volunteer.
"I told her I couldn't because I was a caregiver, but I did send her some money," she said.
Anne Margaret Jackson said Sister Jerome taught her at both St. Nicholas and Ursuline High School.
Then, later in life, Jackson was part of a Catholic alumni group who donated to some of Sister Jerome's causes.
This included one event where a large group of students were brought shoes, Jackson said.
"She was an organizer. She could always find people who were looking for somewhere to give and get them to sign up," Jackson said.
Sophia Brooks of Youngs-town taught music at the center at Millcreek Community Center.
Sister Jerome also was looking for ways she could help, Brooks said.
"She was such an inspiration to me," Brooks said. "I love her. I just love her."
Sister Jerome said her goal for years was to help people regardless of age to get a better education, one that they might not otherwise have been able to receive.
"Myself and some of the other sisters at the Ursuline Center had a GED [general educational development] program that was mostly people from the South Side," she said. "These were working people who couldn't attend the public-school classes because they were held during the day at that time."
During a 10-year period, about 100 people completed the program, she said.
When each one finished the program, she would go to Lord Chesterfield's to get them a shirt and tie, she said.
When asked about all the people who wanted to recognize her career, she said, "They're nice people, and nice people tend to care about people."
Her newest education effort is "Sister Jerome's Poor" sponsored by the Ursuline Center, 4280 Shields Road. It is designed to help working families and college students who are struggling to pay bills. The goal is to help poor students so they can stay in college and complete a degree.
Richard Scarsella, awards and event chairman for the society, said he was an educator and had followed Sister Jerome's career for years.
"She's truly a legend in Mahoning Valley education in both her achievements and longevity," he said.