Pens extend Malkin's contract by eight years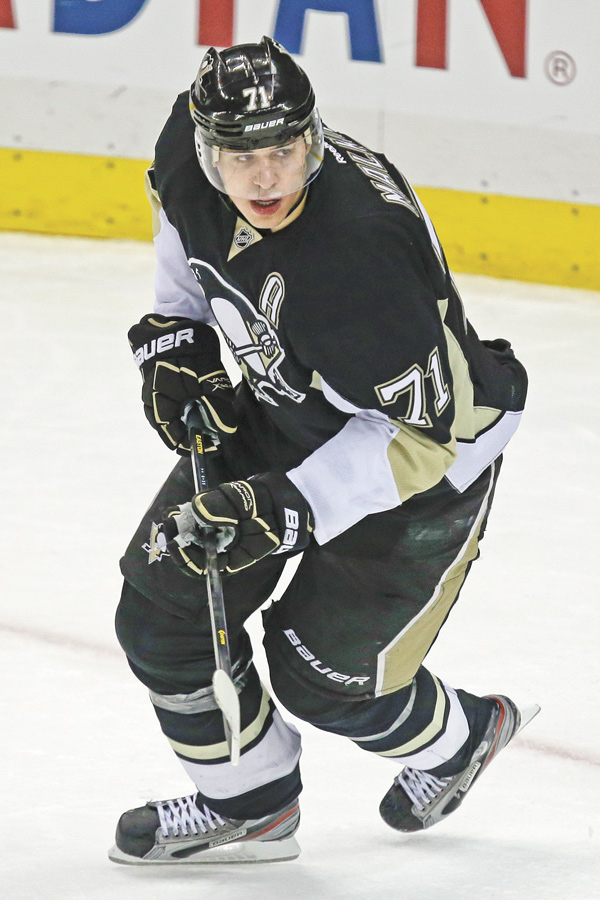 ---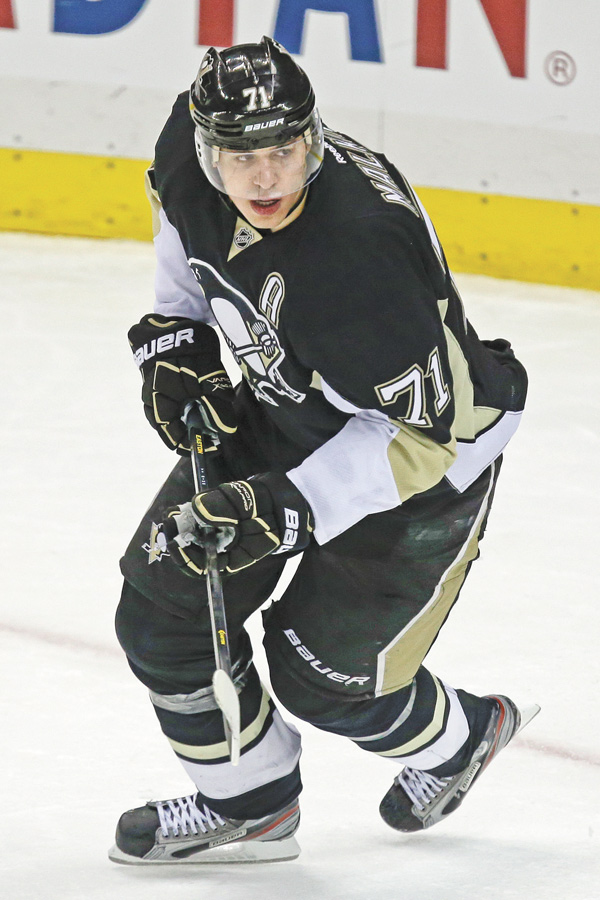 Photo
The Pittsburgh Penguins and reigning NHL MVP Evgeni Malkin agreed to a $76-million eight-year contract extension to begin with the 2014-15 season.
Associated Press
PITTSBURGH
The Pittsburgh Penguins are keeping hockey's best one-two punch together through their primes and beyond.
A day after signing coach Dan Bylsma to a two-year contract extension, the Penguins and star forward Evgeni Malkin agreed to an eight-year deal that will keep the 2012 NHL MVP and franchise cornerstone Sidney Crosby in the fold well into the next decade.
The $76-million deal begins with the 2014-15 season and will carry an average salary cap hit of $9.5 million, a little bit less than the $10.6 million Crosby will average over the first nine years of the 12-year extension he signed last summer.
It's a matter of semantics, really, for two of the game's biggest stars.
"I think it's good," Malkin said. "I like to play with him. I think he is best player in the world."
A title the 26-year-old Malkin has toyed with at times during his seven seasons in Pittsburgh.
The second overall pick behind Alex Ovechkin in the 2004 NHL Draft won the Rookie of the Year in 2007 and has twice captured the Art Ross Trophy given to the NHL's leading scorer. He was named league MVP in 2012 when he collected 109 points and helped carry the Penguins as Crosby continued to recover from concussion-like symptoms.
Malkin's numbers dipped this spring during the lockout-shortened, 48-game season. A concussion and a lingering shoulder injury limited the Russian star to just 33 points in 31 games. He bounced back during the playoffs, collecting four goals and 12 assists during Pittsburgh's romp through the New York Islanders and Ottawa Senators but was held scoreless — as was Crosby — during a four-game sweep by the Boston Bruins in the Eastern Conference finals.
The stunning collapse led to a few days of anxiety for the team that cruised to the second-best record in the league. Rather than panic after falling to a lower-seeded team for the fourth straight year, Pittsburgh decided to keep Bylsma, who has developed a close relationship with Malkin since taking over in February, 2009.
The fact the announcement of Malkin's extension came less than 24 hours after Bylsma was given a very public vote of confidence is hardly a coincidence.
"I like Dan," said Malkin, who shouldered much of the blame for Pittsburgh's flameout against the Bruins. The NHL's highest scoring team managed just two goals in nearly 14 periods of hockey.
"It's my mistake that I scored zero goals," Malkin said following a 1-0 loss in Game 4. "It's not good for me."
The disappointment did little to shake Malkin's confidence in the future. He turns 27 next month. Crosby turns 26. They guided the Penguins to a championship in 2009 — with Malkin being named the playoff MVP — and with them in the fold for the next decade there remains plenty of time to return to the top.
"We're still young and can stay here a long time," Malkin said. "We're a group that we've won Stanley Cup before and I believe we will again."
Malkin was about to enter the final year of a contract that paid him about $8.7 million annually. Getting a new deal in place before he went home to Russia for the summer was important. He didn't want to enter training camp in September answering questions about his future.
Now that it's set, he won't have to. The deal includes a provision that would require Malkin's approval if the Penguins ever tried to move him. At the moment, it's a difficult scenario to imagine.
"I like the city, is good for hockey," Malkin said. "I like fans. I have house here and all my friends here. It's good for me."
And good for the Penguins. General manager Ray Shero praised Malkin for being adamant about his desire to stay in Pittsburgh rather than hit the open market in a year, when he could command an even higher salary and go to a team where he's not the 1b to Crosby's 1a.