Hundreds attend outgoing YSU President Cynthia Anderson send off
---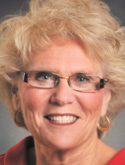 Photo
By Denise Dick
BOARDMAN
Supporters describe outgoing Youngstown State University President Cynthia E. Anderson as a visionary leader who always put students' best interests first.
Anderson says she doesn't regret a minute of her career.
"No one in this world had a more fulfilling and wonderful career than I did," she told the hundreds of people who turned out Thursday evening for the Salute to President Cynthia Anderson at Mr. Anthony's Banquet Center.
Anderson, YSU's seventh president, retires June 30 from the presidency, an office she's occupied since 2010. She began her YSU career as an instructor in 1979, moving to assistant professor in 1985, associate professor in 1990, assistant provost in 1993 and vice president for student affairs in 1995.
"I leave Youngstown State having had this absolutely blessed career," she told the crowd.
Dr. Sudershan Garg, chairman of the YSU trustees, said a lot of people underestimated Anderson upon her appointment to the presidency. But she proved herself in her performance, addressing fiscal challenges with reduced state funding and reducing the university's budget.
"Her mantra was always 'Students are No. 1,'" he said. "Their success she cherished from the bottom of her heart."
Though her tenure as president was short, she achieved a lot in that short time, Garg said.
Bruce Sherman, a 1971 YSU graduate and owner of Sherman Creative Promotions, said Anderson worked closely with the alumni society and became a bridge between the society and university.
Carl Nunziato, a 1961 graduate and a community volunteer, said Anderson helped as he and Bernie Kosar worked to establish a veterans resource center on campus. Fundraising is underway and the project is expected to get underway on Wick Avenue where the Peck House used to stand.
Any time Nunziato and Kosar encountered a problem with their plans, they contacted Anderson, who took care of them.
"She's our honorary vet," Nunziato said.
Germaine Bennett, a 1983 YSU graduate who is retired from the city schools, was on the search committee when Anderson was selected president. She contacted Anderson's references dating back to when Anderson was a teacher at Westerville South High School in Central Ohio, before she returned to YSU.
A colleague from those early days of Anderson's career told Bennett that Anderson was smart, a leader, involved with students and a good friend who would do anything she could to help.
Bennett said that matched what she knew of Anderson as well.
"We shared a passion for students and for education, and we just clicked," she said.
Anderson set the bar as YSU president for all that follow, Bennett said.
Ikram Khawaja, provost and vice president for student affairs, said Anderson's presidency was the most people-centered of any he worked under during his many years at YSU.
"She led by example," he said. "Any time we had an issue or a problem or a potential problem, the question was, 'How does this support our mission and what does it do to people?'"
Despite the budget troubles of the last few years, Anderson was able to reduce the budget while avoiding employee layoffs, Khawaja said.
"We've also added over 100 faculty members in three years," he said.
Anderson made working at YSU a pleasure, Khawaja said.
For Anderson, the feeling is mutual.
"When my feet hit the floor, I wanted to go to work," she said.
The YSU community became her family. They laughed and cried together, and the students kept her young, she said.
"I cried at every commencement ceremony since 1979," she said. "I was so happy and proud of those students."
She said she's proud that she never changed her focus on students from the time she was a YSU student running for Student Government Association to her time as president.
"I wouldn't change one minute of my career," Anderson said. "If I had a regret, it's that my parents aren't here — but they are here."