Lefty leads at rainy U.S. Open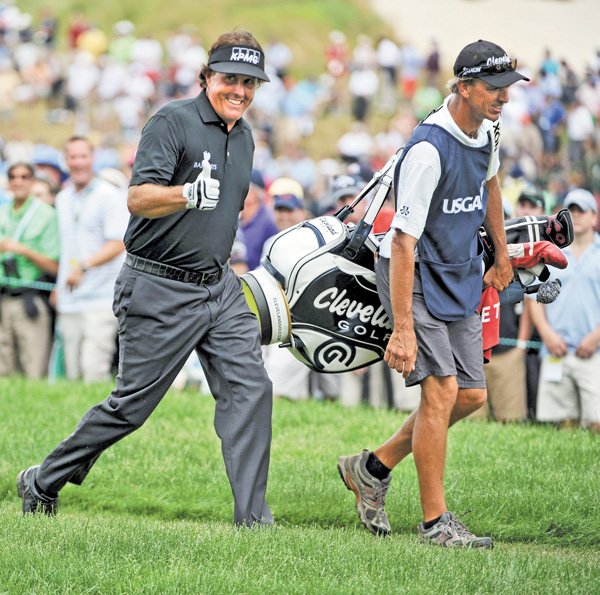 ---

Photo
Phil Mickelson gives a thumbs up to spectators Thursday during Round 1 of the U.S. Open at Merion Golf Club's East Course in Ardmore, Pa. Mickelson overcame major obstacles including rain and jet lag to shoot a 67 and take a one-under lead.
Mickelson rises, Tiger struggles as rain delays mar first round
Associated Press
ARDMORE, Pa.
Even for Phil Mickelson, his path to the top of the leaderboard Thursday in the U.S. Open was unconventional.
He traveled about 2,400 miles in the air and 7,000 yards on the ground. He took a short nap on his private jet from San Diego and another one during a rain delay when he found a secluded corner of the library room in the Merion clubhouse. He carried five wedges but no driver.
Some 17 hours later, Mickelson had a 3-under 67 to match his best opening round in the U.S. Open.
Mickelson returned from his daughter's eighth-grade graduation about 31/2 hours before his tee time. He three-putted his first hole for a bogey and didn't give back a shot the rest of the day at Merion, which proved plenty tough by yielding only one other round under par to the 78 players who completed the first round.
Because of two rain delays, the first round won't be completed until this morning. Mickelson won't have to tee it up again for another 24 hours.
Enough time to fly back to San Diego?
"I don't want to push it, no," Mickelson said with a tired smile.
Tiger Woods faced a tougher road. He appeared to hurt his left hand after trying to gouge out of the deep rough on the opening hole. He grimaced and shook his left wrist again after hitting a 5-wood out of the rough on the fifth hole. He already had three bogeys though five holes before starting to make up ground with a 50-foot birdie putt on the par-4 sixth hole.
Woods, however, failed to take advantage on the short stretch of holes in the middle of the round, and he was shaking his hand again after shots out of the rough on the 10th and twice on the 11th. He was 2-over for his round and had a 4-foot par putt on the 11th when play was stopped for the day.
"I've got a lot of holes to play tomorrow," Woods said. "And, hopefully, I can play a little better than I did today."
Luke Donald was 4-under through 13 holes, making one last birdie before leaving the course. The first round was to resume at 7:15 a.m. today, and the forecast called for drier weather for the rest of the week.
Masters champion Adam Scott, playing with Woods and Rory McIlroy, was 3-under through 11 holes, while defending U.S. Open champion Webb Simpson was 2-under through eight holes. McIlroy was 1-under.
Lee Westwood got the full Merion experience. He was 3-under when his approach on the 12th hit the wicker basket — the signature at Merion, replacing traditional flags — and bounced off the green, leading to a double bogey.
For Mickelson, this could be the start of yet another chance to win the major championship he wants so dearly. Or maybe he's setting himself up for more heartache. He already has been a runner-up a record five times in the U.S. Open.
"If I'm able — and I believe I will — if I'm able to ultimately win a U.S. Open, I would say that it's great," Mickelson said. "Because I will have had ... a win and five seconds. But if I never get that win, then it would be a bit heart-breaking."
Nicolas Colsaerts of Belgium, the only other player from the morning wave to break par, picked up birdies on the short seventh and eighth holes for a 69.
Former Masters champion Charl Schwartzel, Tim Clark, Rickie Fowler, Jason Day and Jerry Kelly were the only others who at least matched par at 70. Clark and Kelly were at 2 under deep in their rounds until running into trouble, which isn't hard to do in the U.S. Open, especially at Merion. Clark took a double bogey-bogey stretch in the middle of his back nine. Kelly was one shot behind Mickelson until a double bogey on the 18th hole.
"It's a lot tougher than they say it is," Schwartzel said.