Flag Day was established in 1949 as June 14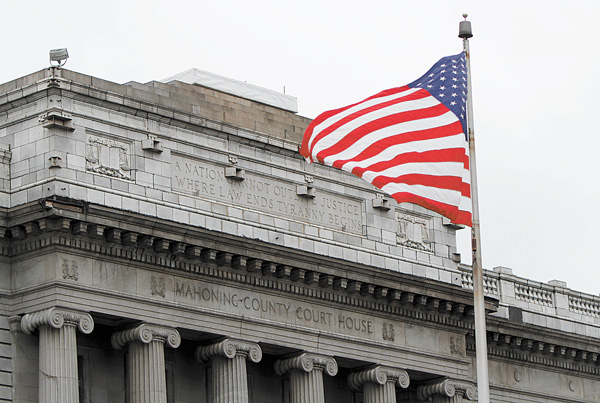 ---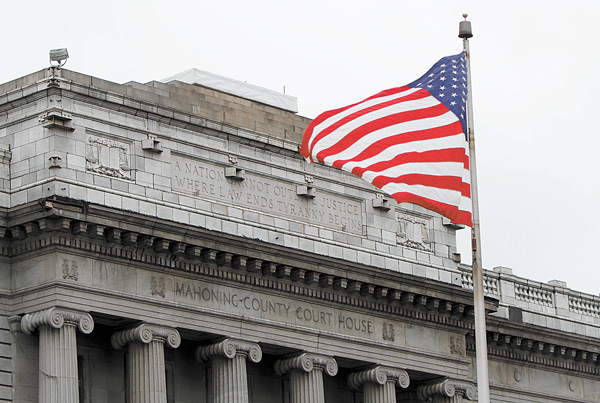 Photo
An American flag waves in the breeze in front of the Mahoning County Courthouse on Market Street in downtown Youngstown.
CANFIELD
Flag Day may be forgotten by some, but it remains important to Mahoning Valley veterans.
"It is a way to show respect to the symbol of our country," said Jan Brown, commander of AMVETS Post 44 in Struthers.
Flag Day is today.
"I think we need to recognize and take proper care of the flag and fly it every day, not just on holidays," said Brown, who served 20 years on active duty in the Air Force and seven years in the Air Force Reserve.
"To me and to a lot of veterans, we fought to defend our flag because it is a symbol of our nation," said Dean McClain of Austintown, a Korean War veteran.
"We hold it near and dear to our hearts, and when we have a chance to publicly display our love for our flag, we like to do so," said McClain, who served in the Army from 1952 to 1954, including 14 months in Korea as an engineer in a railroad battalion.
Active in veterans affairs, McClain is former commander of the United Veterans Council of the Mahoning Valley.
"The flag is the symbol of our country and just what we were fighting for," said William Amendol of Austintown, a World War II Army veteran.
Frank Griffiths of Canfield fears that a lot of people, particularly among the under-40 population, don't have an understanding of what the flag means as the symbol of the United States.
Griffiths, a member of the Marine Corps League Tri-State Detachment 494, which participates in a lot of parades, said a lot of people don't stand when the flag passes, and the men don't remove their hats.
"I'm a patriot. I fly the flag every day. I believe it should be respected and honored," said Griffiths, who enlisted in the Marine Corps in 1946 after the end of World War II.
The Mahoning Veterans Memorial and AMVETS Post 44 are conducting a Flag Day flag-disposal ceremony at 11:30 a.m. today at the memorial located on the west side of the Canfield Fairgrounds.
The public is welcome to attend and participate in the ceremony, a traditional activity for Flag Day practiced by a number of Mahoning Valley veterans organizations.
"Flag Day is a special day to show respect and dispose of the flag properly," said Amendol, a 66-year member of American Legion Post 301 in Austintown and a member of Catholic War Veterans Post 1292.
There have been school-based Flag Day celebrations since the late 1800s.
Congress authorized the American flag as the official national symbol of the United States of America on June 14, 1777.
In 1885, Bernard John Cigrand, a 19-year-old schoolteacher in a one-room school, arranged for pupils in Fredonia, Wis., Public School, District 6, to observe June 14 as Flag Birthday.
On June 14, 1889, George Balch, a kindergarten teacher in New York City, planned ceremonies for the children in the school to observe Flag Day.
On June 14, 1894, under the auspices of the Illinois American Flag Day Association, the first general public schoolchildren's celebration of Flag Day in Chicago took place with more than 300,000 children participating.
Eventually, June 14 as Flag Day was officially established by proclamation of President Woodrow Wilson on May 30, 1916; but it was not until Aug. 3, 1949, that President Harry Truman signed an Act of Congress designating June 14 as National Flag Day.