Boardman seniors earn scholarship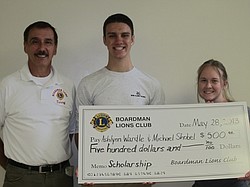 Photo
Neighbors | Submitted .Shown, from left, are Boardman Lions president Terry Shears, Michael Shobel and Ashlynn Wardle.
The Boardman Lions Club named Boardman High School graduating seniors Ashlynn Wardle and Michael Shobel as the recipients of the 2013 Boardman Lions Club Scholarships.
Wardle will enroll in Bowling Green State University in the fall to study inclusive childhood education, while Shobel will attend Kent State University to study business and accounting.
This is the first year the $500 scholarships were awarded to one girl and one boy who have demonstrated academic strength, community service and leadership both in BHS activities and in community giving. These two students have proven themselves to their teachers, advisors, coaches and community service organizations.
"We feel these two young people will continue to serve others, to be community leaders and have strong academic promise for their college programs leading to their careers," Shears said. "The Lions Club, which is a service organization, is pleased to be able to reward Ashlynn and Michael for their success, hoping it will encourage them to continue to serve throughout their lives."