Angels for Animals offers spay/neuter program to stem cat population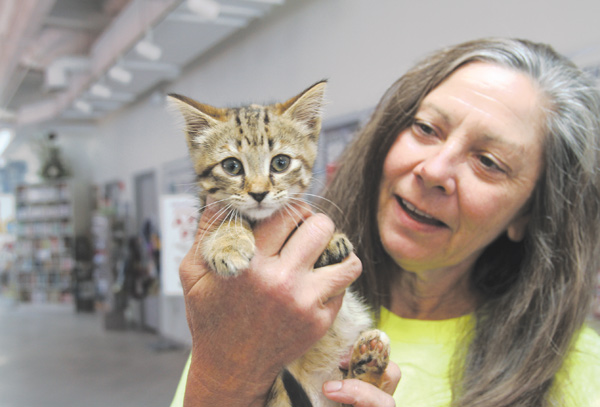 ---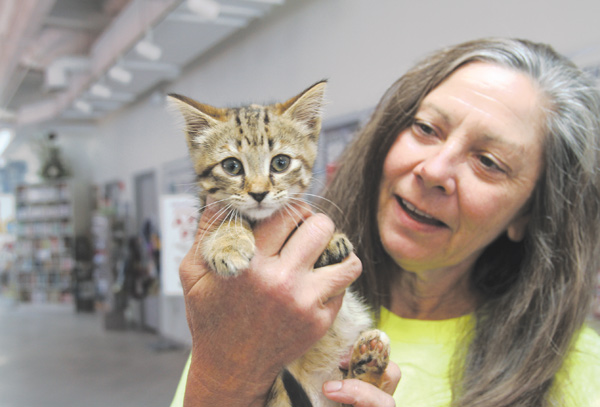 Photo
Diane Less, co-founder of Angels for Animals, holds a female kitten, named Vindy, who was found last week by Vindicator employees outside of the newspaper's offices. Angels is offering a "Show Us the Mommy" program, in which participants can make an appointment and pay regular price to spay a mother cat. Each kitten will then be spayed or neutered for $20 each.
By Denise Dick
North lima
One female cat and her offspring can produce more than 11 million kittens over nine years.
That's why Angels for Animals, with a $20,000 donation from the Karen A. Erwin Memorial Trust, is offering "Show Us the Mommy." People may make an appointment to have a mother cat spayed at the shelter's veterinary clinic at the regular price then the shelter will spay or neuter each of her kittens for $20 each. To qualify, kittens must weigh between 2 and 4 pounds, and appointments may be made by calling the shelter at 330-549-5634.
"For every 30 to 50 cats, there's only one home," said Diane Less, Angels co-founder.
That lack of homes leads to pets being euthanized or dying after being left to fend for themselves.
That's why Angels, as well as most animal-welfare organizations, advocate and offer spay and neuter programs.
Last year, 2,700 cats were left in the shelter's drop-off area.
Cats typically have a first litter in March, another follows in late July and a third in fall. Summer is a slow time for cat adoptions at the shelter as people are dealing with high-school graduations, weddings and other family functions.
"I'll never forget, one day last fall we got 83 cats in one day," Less said.
She hears from people who defend their cat's having kittens, saying they found homes for all of them. But Less argues that means five or six kittens from Angels or someplace else won't get homes. It also doesn't guarantee that those kittens won't go on to reproduce more unwanted pets nor does it ensure that those kittens will remain in those homes, she said.
To help with the problem, Angels will spay pregnant cats on-demand during weekdays.
"They can be safely spayed up to the day of delivery," she said. "It's more humane than anything else you can do."
Spaying and neutering has other benefits, too.
Spayed and neutered dogs and cats can live longer than their unaltered counterparts and they may make better, more affectionate pets, according to the Humane Society of the United States.
June also is Adopt a Cat Month at the shelter.