Austintown schools hold three online auctions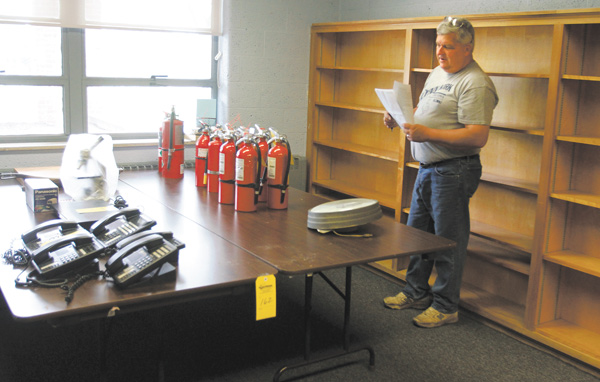 ---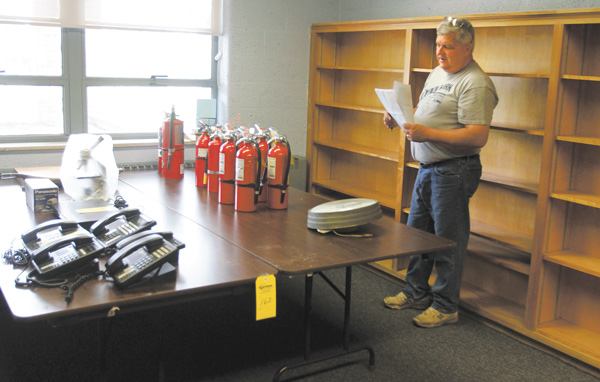 Photo
Jim Long of Austintown takes stock of fire extinguishers and phones at Lloyd Elementary School in Austintown. Along with Lloyd, two other schools in Austintown have an online auction of items for sale. Today was visitation day when items could be viewed in person.
By Kalea Hall
AUSTINTOWN
After taking in more than $50,000 in their May school auction, Austintown school officials knew they had to have another online auction for three schools they have to clear out before they are demolished.
The online auction offering a variety of items from Lynn Kirk, Woodside and Lloyd elementary schools began Monday and closes Friday at 5 p.m.
"They [the auctioneers] were anticipating $15,000 by today; we are already over $20,000," said Mal Culp, supervisor of facilities and operations for Austintown schools.
On Wednesday, potential buyers were able to walk inside the schools and check out what is being offered for sale online. A commercial-grade playground going for $3,075, a cabinet filled with construction paper going for $40, a bathroom sink, mirror, paper towel and soap dispenser going for $1.75 and even a surveillance system going for $66, are just some of the items being sold.
"These are taxpayer dollars," said Paul Basinger, auctioneer. "We are trying to get as much money as we can for the schools."
When it comes to deciding what items go in the auction, Culp said the principals and teachers go around and mark everything they want to keep. All new equipment, such as smart boards, any supplies bought to support the new curriculum at the school and audio systems, are kept.
"It's a group effort," Culp said.
Before Basinger took over auctioning for Austintown with the Frank Ohl Middle School and Watson Elementary School, the school had a parking lot auction for Austintown Middle School in 2007. Only $6,000 was raised. That was when it was decided to try out the online auction for Watson and Frank Ohl.
"When [the auctioneers] walked in there, they said we could get as much as $35,000." Culp said.
Austintown actually took in a gross amount of $56,000 from the Ohl and Watson auctions. After the auctioneer receives his cut of the earnings, the school probably will take in around $49,000 from the first auctions, Culp said. By Monday, the school should know how much money was received from this week's auction.
"I know the board is very pleased," Culp said. "Those funds will usually go to capital improvement, not back into the general fund."
The online auction acts as if the bidder is at a live auction. If a bidder places a maximum bid and the item goes for a lower price, the bidder will pay whatever the next bid up is, not the maximum bid. If someone over-bids another bidder, that bidder is informed through email. Although the auction closes at 5 p.m., the "soft close" allows bidders to bid out others as long as they respond and bid higher on an item within four minutes.
"People from all over can participate," Basinger said. "Online auctions allow the bidder to not even have to come out."
To bid in the Austintown schools auction go to bid-assets.com.