Relay for Life benefit concert MONEY FOR THE CAUSE Drummer is battling cancer but will rock at Warren concert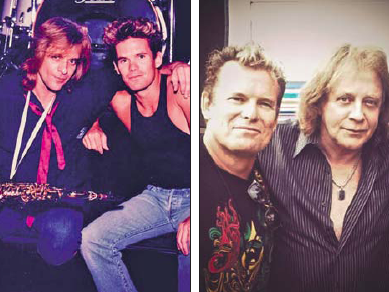 Photo
Glenn Symmonds has been the drummer for Eddie Money since the band's earliest days. Symmonds is battling cancer now but still is touring with the band, including Friday's concert in Warren. The photos above show Symmonds and Money in the band's heyday and today.
If You Go...
What: Relay for Life benefit concert, featuring Eddie Money with The Gary Markasky Project and The One Forty Ones
When: 7 p.m. Friday
Where: Warren Amphitheater, 321 Mahoning Ave. NW, Warren
Tickets: $15 advance/$20 at the door; call 330-716-4344
By John Benson
For decades, Eddie Money has been singing his fan-favorite song "Can't Keep a Good Man Down."
Now the tune is taking on a different message for Money's longtime drummer, Glenn Symmonds, who was recently diagnosed with bladder cancer.
"Eddie has been great for me, because since I've gotten this cancer, going out on the road with the band has been one of the best therapies," said Symmonds, calling from his Bethany, Mo., home. "They're sympathetic to the fact I have bladder cancer but they don't cut me too much slack. There's a lot of fun and laughter and jokes and nonstop joy being on that tour bus. It gets me out of my head. It's therapy. There's no 'poor me.'"
Not only is there no "poor me" but apparently it's business as usual for Symmonds, who last week started chemotherapy treatments. That's right, the percussionist, who over his career has recorded and toured with Coke Escovedo, Etta James, Dave Mason, Juice Newton, Duncan Sheik and The Untouchables, is touring on the weekends while during the week he undergoes medical treatment for the fight of his life.
"The doctor thinks I'll be able to do it," Symmonds said. "That's what I'm going after. I'm strong enough to do it. I'm determined. I'm extremely positive, and therefore it's going to happen."
That means Symmonds will be alongside Money at the upcoming Relay for Life Benefit show Friday at the Warren Amphitheater. Relay for Life is a national program that raises money for cancer research.
Symmonds has been in Money's band off-and-on for 38 years. He remembers fondly how he met the New York City cop-turned-rock-and- roller in the most unlikely of ways in California.
"I was 19 years old living in Oakland, and I got a knock on my door one day," Symmonds said. "I used to practice drums all the time, and it was Money who asked if I was the guy always playing drums. He said he had a band and his drummer didn't show up."
Soon Symmonds found himself jamming in a garage.
Mind you, at the time the drummer was an idealistic and freethinking player more interested in funk and progressive jazz fusion than quintessential 4/4 rock.
After they played one song, Money asked Symmonds to join his band.
"He said, 'My name's Eddie Money, I'm going to be a rock 'n' roll star,'" Symmonds said. "I'm 25 years old, and I don't have a lot of time. Are you in or are you out?' And he said this with his New York City accent. It was very forward and aggressive. He was determined. He also said, 'We have a gig on Saturday and it pays $100.' I said, 'I'm in.' Opportunity knocked on my door and we've been together ever since."
Today, Symmonds is hoping opportunity and good fortune are at his door again with what is the biggest battle of his life. Later this month, his bandmates are all pitching in to play a fundraiser show for their drummer and his mounting medical costs.
The title of the show couldn't be more apropos: "Can't Keep a Good Man Down."
"I'm still strong," Symmonds, "They said chemo was going to knock me out and give me flulike symptoms; however, I felt like I smoked crack. I have not stopped. It's like someone lit a fuse under me. I'm bouncing off the walls with energy and I'm going after this cancer."