Sean Durkin again will coach Ursuline's girls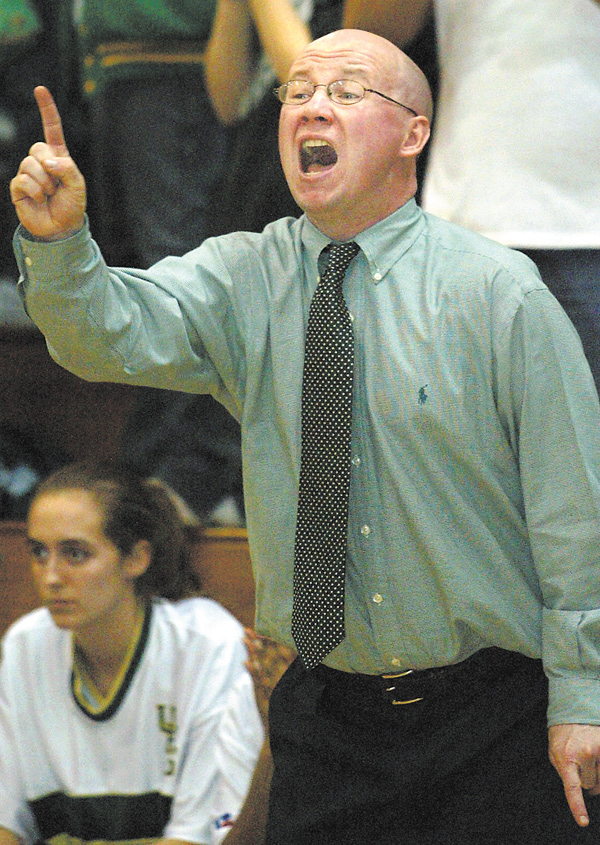 ---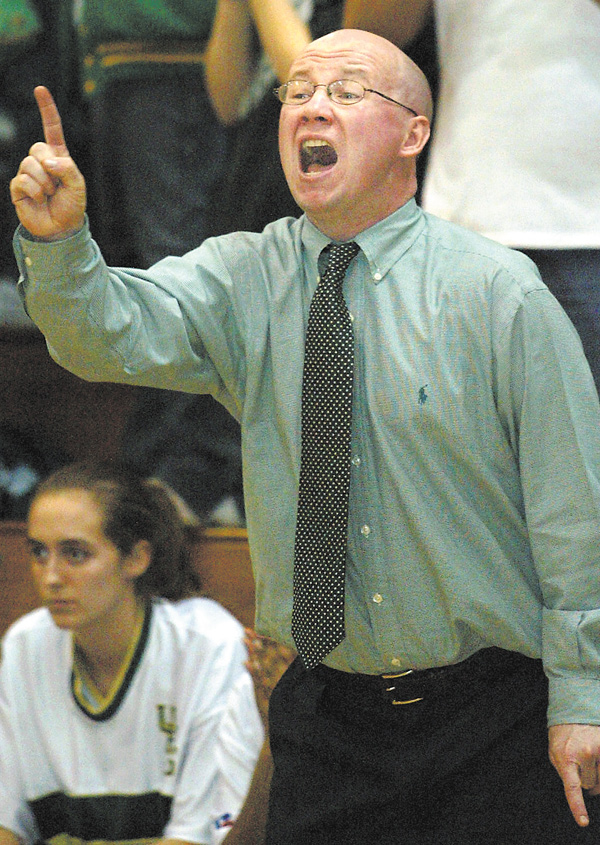 Photo
Ursuline girls basketball coach Sean Durkin signals to his girls during a 2004 game against Regina at Cuyahoga Falls. The Ursuline athletic director, Durkin will return as the Irish girls basketball coach.
By Doug Chapin
He's baaaaack.
After two years away from the basketball court, Sean Durkin is returning as girls basketball head coach at Ursuline High.
Ursuline High School principal Patricia Fleming announced the appointment on Wednesday, one day after the first birthday of Durkin's daughter, Annie.
"I had been doing two sports pretty much since I was 19 and to have an off-season was a little bit rejuvenating I think," Durkin said about his two-year hiatus from the basketball sideline.
Durkin posted a record of 231-94 in 13 seasons as the Irish head coach, winning a Division III state title in 2004 and finishing second in 2006, before stepping down following the 2010-11 season when the Irish reached the regional championship game.
He was married in 2010 and was just completing his first year as athletic director when he stepped down.
"I had stepped away for a couple of years but I still love the game. Once Courtney [Davidson] stepped aside, my mind started spinning immediately," he said.
"I talked it over with my wife and she was all for it. I just wanted to hold off announcing it so there wouldn't be a distraction for baseball."
Durkin just completed his 16th year as baseball head coach.
Ursuline, which won a baseball state title in 2000, reached the state final four again this spring, falling to Wheelersburg in a state semifinal, 2-0 in eight innings.
Durkin will continue as baseball coach and athletic director.
Durkin was replaced in 2011 by Davidson who starred on Ursuline's 2004 state title team.
Davidson, who recently accepted a position as director of operations with the Youngstown State University women's basketball program, had a record of 25-23 with the Irish.
Durkin said the continuity of the girls basketball coaching staff will make the transition easier.
"The staff is pretty much a constant. Jack Bermann and Arnold Davidson were coaching with me previously and Vanessa Dickson played for me," he said. "She started coaching with Courtney and she will stay on. The only change is me stepping in for Courtney.
"The assistants were running the preseason program without me during baseball season. I just left a summer league game and the assistants are doing a great job running that for us. I am pretty much in the observation stage."
Durkin said the Irish will be young but talented next season.
"We will be young, we played a lot of freshmen last year but it is a very talented group. They struggled record-wise against a tough schedule and I expect them to be better with another year of experience."