Vallourec site scene of Valley's manufacturing renaissance
Vallourec Dedicates Pipe Mill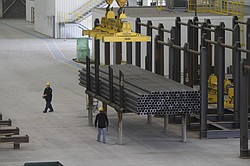 Video
Vallourec dedicates billion dollar plant in Brier Hill
Vallourec Star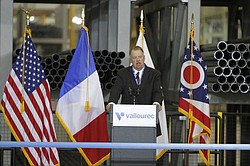 Gallery
YOUNGSTOWN
Wednesday was the culmination of years of suspense for many in the crowd at the Vallourec Star seamless- pipe mill dedication.
Many people were skeptical that a mill could ever again be successful in the Valley, said Jay Williams, former Youngstown mayor and current deputy director of the Office of Intergovernmental Affairs for the U.S. Department of Labor.
"This development is about a new mindset in Youngstown and Girard. It's about charting a new course for the future," Williams said.
Girard Mayor Jim Melfi agreed.
"When we first heard about this project, we thought, 'Why Youngstown?'" he said.
Developments such as Vallourec Star have helped to change that perception. People don't have the same negative reaction when they hear about a business coming to the area, Melfi said.
"Now we think, 'Why wouldn't they come here?'" he said.
There are times when an area is its own worst critic about what positive features it has, Williams said.
Before coming to Wednesday's dedication at Vallourec Star, Williams said he stopped by his house to hold the shovel from the site's groundbreaking June 28, 2010.
"This is ground zero for the manufacturing renaissance in the Mahoning Valley," he said.
This project is an example of what can happen when people ignore potential political gain and work together for the benefit of the region, Williams said.
Vallourec Star is a big deal for the city of Youngstown to coincide with growth of shale industries, said Mayor Charles Sammarone.
"The oil and gas industry is going to continue to be a big deal for this area for the next 100 or 200 years," he said.
Sammarone said he lived through the shutdowns of the steel plants, and seeing the current developments such as Vallourec is "really beyond words."
This business, as it was being developed, gave people hope that things were going to get better, Sammarone said.
Melfi said that when he was younger he spent two summers working at the U.S. Steel Plant in McDonald. Both his grandfathers, uncle and father had worked for steel companies.
"I wish some of the old steelmakers could see this place," he said. "It's not your grandfather's steel plant."
The old steel mills were dirty and hot, Melfi said.
"This place is spotless. It looks more like a warehouse," he said.
It's amazing to see this facility and how much it's changed in three years, said Tom Humphries, president of the Youngstown/Warren Regional Chamber. The building previously had a dirt floor.
"Now it's so clean you could almost eat off the floor," he said.
Humphries said the Vallourec Star construction and hiring were the start of the turnaround in manufacturing in the area.
At the time Vallourec Star made its announcement, General Motors was just starting to talk about adding its new vehicle, he said. Now, the Lordstown-built Chevy Cruze is helping fuel GM's recovery.
"The physical presence of this building is a visible representation to show we're back," Humphries said.