Vallourec will dedicate new mill today
---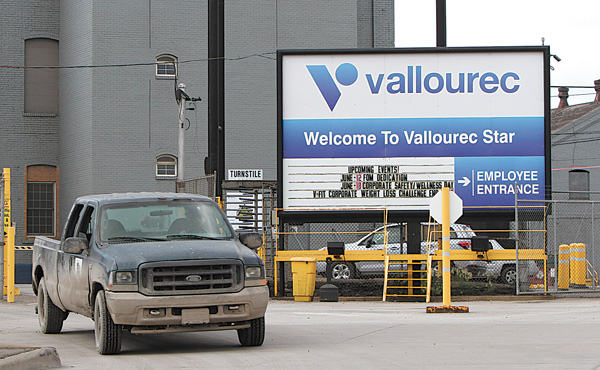 Photo
Vallourec Star on Martin Luther King Jr. Boulevard in Youngstown was built in response to growing demand for small-diameter pipe for the shale industry.
YOUNGSTOWN
Vallourec Star will welcome members of the media, local and state officials and members of the business community to its facility today for a dedication ceremony at its new seamless pipe mill.
First announced in February 2010 with an initial price tag of $650 million, the state-of-the-art facility, which cost more than $1 billion, was constructed in response to growing demand for small-diameter pipe used for hydraulic fracturing, a process that uses water, chemicals and sand to extract natural gas and oil from shale rock thousands of feet below the earth's surface.
In October 2012, the facility, which created about 350 jobs in the Mahoning Valley, began to pump out the small-diameter pipe for sales to U.S. and Canadian markets.
Considered a cornerstone of the France-based company's North American operations, where it also runs facilities in Texas and Oklahoma, Vallourec Star's Youngstown operations have grown only since the company first acquired North Star Steel in 2002, and, in recent years, it has stoked excitement about the Valley's economic growth.
"The most important part about [Vallourec] is they're employing people from the Valley and giving them a chance to live here, spend money here and raise a family," said state Sen. Joe Schiavoni of Boardman, D-33rd. "If we can get a few more [Vallourecs] in the next few years, we'll be on the right path."
Today's event will feature a press conference, mill tour and a dedication ceremony.
Joel Mastervich, president and chief operating officer of Vallourec Star; Skip Herald, managing director of Vallourec OCTG North America; and Philippe Crouzet, chairman of the Vallourec management board, will be on hand for remarks.
Youngstown Councilman Mike Ray, D-4th, said Vallourec's additional tax revenues and the company's land lease with the city have meant a surplus in the city's budget.
Vallourec employs about 23,000 people worldwide and serves both the oil and gas and the electricity generation markets, both of which are growing rapidly to meet growing energy demands.
The company, traded on the Euronext Paris — the French stock market — and listed on the CAC 40, a benchmark index that lists the market's leaders, grossed sales of 5.3 billion Euros or about $6.5 billion last year.
"It's huge for us. It shows the rest of the world that a major global corporation has a strong interest in investing in the Youngstown-Warren area," said Tom Humphries, president of the Youngstown/Warren Regional Chamber. "It makes a significant statement that this is a good place to do business."
Today's event has been building excitement in the area's broader business community, Humphries said, with many officials wondering what other announcements might be in store and what top Vallourec officials might have in mind for their remarks.
Today, Vallourec Star's Youngstown facility sits at the former site of the Youngstown Sheet & Tube Co.'s Brier Hill Works. Hunt Steel acquired the facility in 1980 before North Star Steel purchased it in 1985 and installed modern pipe-making equipment.
When Vallourec acquired North Star Steel it was considered a fulcrum in strengthening the company's North American operations — a market deemed as the flagship for Vallourec's service to the oil and gas industry.
Vallourec's history stretches back to the 19th century, and the current company was formed through a series of mergers and acquisitions among regional, national and international companies that took place over the course of decades.
Today, Vallourec is considered a global leader in "premium tube solutions" with integrated manufacturing facilities in more than 20 countries and a major footprint in the U.S., Germany, France and Brazil.