Collector is tied up in unique hobby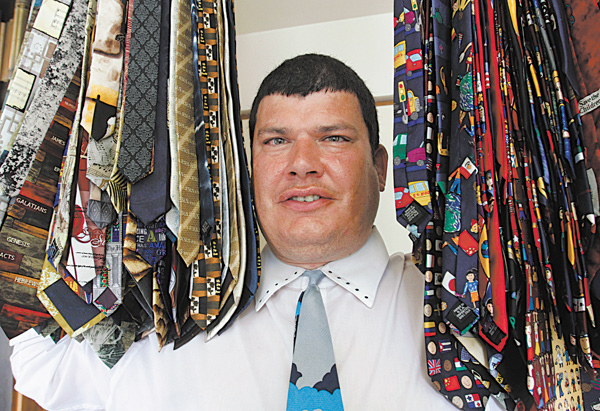 ---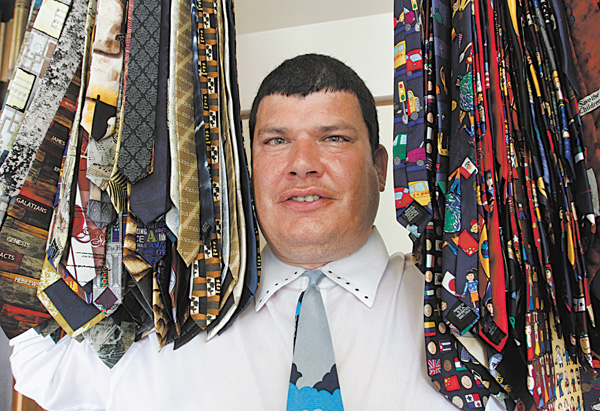 Photo
Dave Quigley of Youngstown has about 3,000 neckties in his collection, which all started with a Christmas-themed tie he bought at a Salvation Army store. In the past couple of weeks, he has worn baseball and basketball-themed ties, and this week, it's a variety of themes.
By LINDA M. LINONIS
Youngstown
Dave Quigley never finds himself tongue-tied when it comes to talking about his hobby.
The 45-year grabatologist (necktie collector) has amassed some 3,000 different ties. But he's not overwhelmed by the choices — he revels in them.
He really has tied one on when it comes to his unique collection. In recent weeks, he wore baseball and then basketball themes. This week, it's a variety of themes.
Quigley has collected neckties for a decade. His self-described obsession began with a tie he bought at a Salvation Army store. "It's a Christmas tie with a nice design," he said.
Though Quigley said he "likes colorful ties," he never sees that element because he's colorblind. It's the designs that catch his eye. "I ask co-workers if my tie goes with my clothes," he said. "I see black, white and gray."
Quigley said he likes to be prepared so he's not tied up in knots over what to wear for the week. He plans out his ties and clothes for the next week on Saturdays. "That way I don't have to worry about what to wear in the morning," he said. Slacks, shirt and tie are his workday look.
He is a travel trainer at United Methodist Community Center. "I help seniors learn to ride the WRTA buses," he said, adding that he coaches them about where to get off and deals with any issues they have.
During December, he wears Christmas-themed neckwear. That's the only month that's dedicated to one subject matter.
He has ties for every holiday, including Thanksgiving.
"I try to not to wear a tie twice," he said.
For major athletic seasons, you'll see him sporting an array of ties with themes of baseball, football and basketball. Quigley also shows his American spirit with various patriotic-focused ties he wears for appropriate occasions.
Though Rush Limbaugh isn't his favorite radio-show host, a tie from his now- defunct "No Boundaries" tie designs is Quigley's favorite. The collector tie features carousel horses.
Whimsical ties featuring Looney Tunes, Disney and Peanuts characters will bring a smile to onlookers' faces.
Mickey Mouse, Donald Duck, Daffy Duck, Bugs Bunny, Taz (Tasmanian Devil), Snoopy, Lucy, Charlie Brown and Linus are well-represented.
In contrast are what he calls his "executive" ties, that is, businesslike neckwear in classic colors and patterns.
Quigley also has ties to whet the appetite: Meatballs and spaghetti are served up on a tie; a McDonald's hamburger and fries are on another; and an ice cream cone tie is for just desserts. Tabasco sauce is featured on other ties while Tony the Tiger, the cartoon mascot for Kellogg's Frosted Flakes, is ready to deliver his "grrreat" line.
A nod to technology depicts a real mouse eating cheese on a computer keyboard while Turner Classic Movie ties recall Hollywood's golden years.
There are lions, tigers and bears, along with pandas, elephants, wolves, penguins, giraffes and rhinos that inhabit scenes on myriad ties.
He has ties focusing on endangered species and ties of Save the Children, a global organization helping children.
"Novelty ties are my favorites," he said.
Quigley also wears Christian-themed ties imprinted with Scripture passages and the name of Jesus. He wears those to services at Sword of the Lord Global Ministries on the North Side, where he attends church.
"Wearing those ties is my way of spreading the Gospel," he said.
He wears Christian-themed ties to his ministry on the first Sunday of the month at Mahoning County Juvenile Justice Center and to area nursing homes.
When daylight-saving time comes and goes, Quigley has a clock-themed tie for the days.
There also are ties paying homage to Star Trek and The Beatles.
Quigley said he learned the art of tying a tie from his grandfather.
"I was 12 years old when he taught me," he said. "He put it around his neck and showed me the steps. I struggled for the longest time."
Quigley bought many of his ties at Village Discount Store, which has since closed.
"They called me the tie man," he said, adding that he spent an average of $3 to $5 on a tie.
He stores his ties in plastic bins and on hangers.