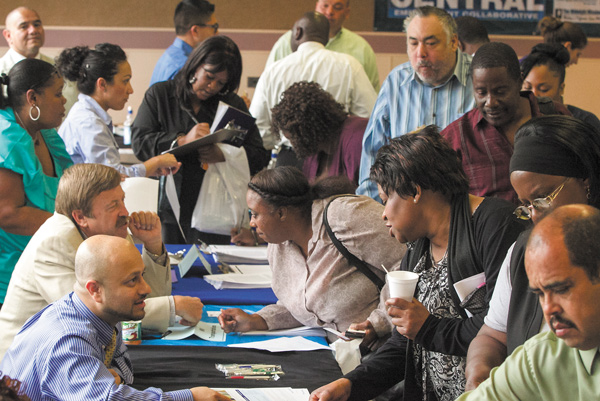 ---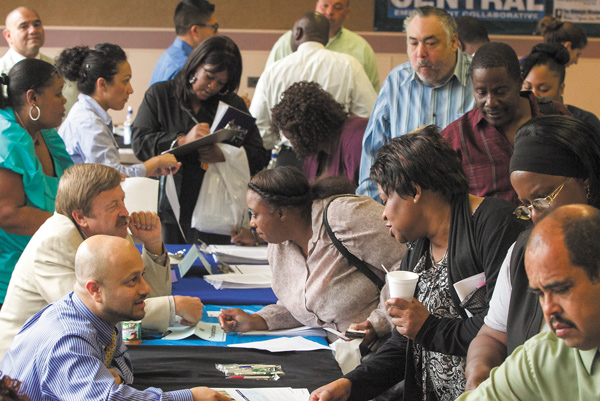 Photo
Job seekers inquire for positions at the 12th annual Mission career fair in the skid-row area of Los Angeles. The Labor Department reported Tuesday that the number of people who quit their jobs rose in April, as did hiring.
Associated Press
WASHINGTON
More Americans are quitting their jobs, suggesting many are growing more confident in the job market.
The Labor Department said Tuesday that the number of people who quit their jobs in April jumped 7.2 percent to 2.25 million. That's just below February's level, which was the highest in 4 1/2 years.
Overall hiring also picked up in April, though not as dramatically. Employers filled 4.4 million jobs in April, a 5 percent increase from March. Hiring fell in March, and April's level was below February's.
The report offered a reminder that the job market is far from healthy. The number of available jobs slipped 3 percent to a seasonally adjusted 3.75 million. Openings had reached a five-year high in February and remain nearly 7 percent higher than a year ago.
Still, the growth in hiring and quits provides more evidence of a dynamic job market that is making slow but steady strides.
It follows Friday's May employment report, which showed the economy added a net 175,000 jobs last month. That's roughly in line with the average monthly gain over the past two years.
Most workers quit their jobs when they have a new position or feel confident that they can find one quickly. And when they do, it opens up more opportunities for other Americans, including the unemployed.
Janet Yellen, vice chairwoman of the Federal Reserve, has said the Fed is monitoring data on quits and overall hiring for signs that the job market is improving in a sustainable way.
The Fed says it will continue its ambitious program of bond purchases until employment improves substantially.
The report, known as the Job Openings and Labor Turnover survey, provides the total number of people hired and laid off each month.
It's different from the department's monthly jobs report, which provides each month's net job gain or loss and the unemployment rate.