Spurs roll past Heat in Game 3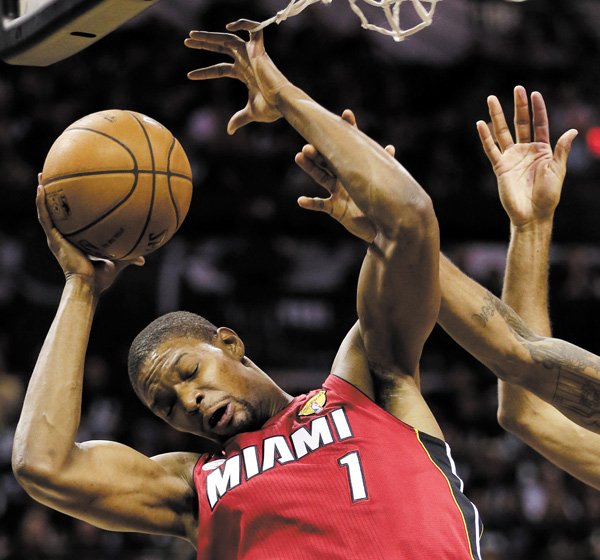 ---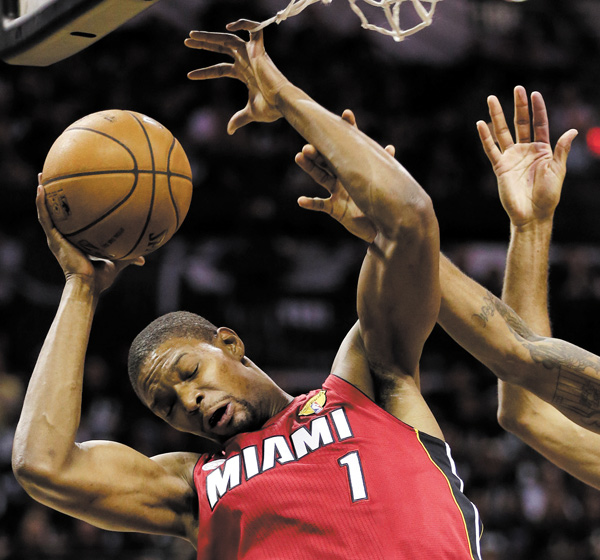 Photo
Miami's Chris Bosh (1) grimaces as he tries to find some space under the basket during the first half of Tuesday's NBA Finals game in San Antonio, Texas.
Associated Press
SAN ANTONIO
Danny Green scored 27 points, Gary Neal added 24 and the San Antonio Spurs set an NBA Finals record with 16 3-pointers in a 113-77 victory over the Miami Heat on Tuesday night that gave them a 2-1 series lead.
Green hit seven of nine 3s, Neal was six for 10 from deep and Tim Duncan chipped in 12 points and 14 rebounds for the Spurs, who responded to a 19-point drubbing in Game 2 with a blowout of their own.
The Spurs flummoxed four-time MVP LeBron James for a third straight game, holding him to 15 points on 7-of-21 shooting.
James also had 11 rebounds and five assists, but he missed 11 of his first 14 shots and never looked comfortable against San Antonio's swarming defense.
Game 4 in the best-of-seven series is on Thursday night in San Antonio.
Kawhi Leonard had 14 points and 12 rebounds for the Spurs, who are two wins away from the franchise's fifth championship with two more games at home in the raucous AT&T Center this week.
Mike Miller made all five of his 3-pointers for 15 points and Chris Bosh had 12 points and 10 rebounds for the defending champion Heat, who never led in the game.
The Spurs came home to their devoted fans encouraged by the split, but reeling a little after James, Dwyane Wade and Mario Chalmers thumped them 103-84 in Game 2.
James has had an unusually difficult time scoring in these finals, entering the game averaging a pedestrian 17.5 points on 41 percent shooting.
He posted his two lowest scoring outputs — 18 and 17 — in the two games in Miami, with the Spurs forcing him to be a jumpshooter and determined not to let him attack the rim.