Revised economic report shows sustained growth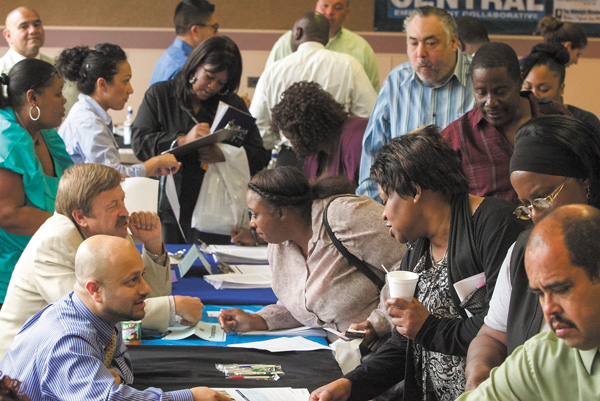 ---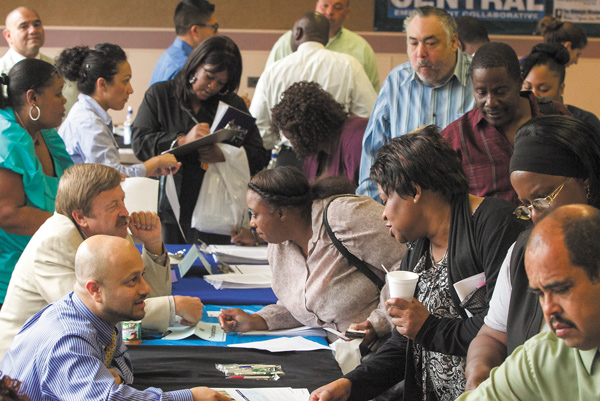 Photo
Job seekers inquire for positions at the 12th annual Mission career fair in the skid-row area of Los Angeles. The Labor Department reported Tuesday that the number of people who quit their jobs rose in April, as did hiring.
Staff report
Youngstown
Twelve economic- development groups in the Mahoning Valley were involved in 118 projects that generated more than $4 million worth of investments and help to create or retain 7,194 jobs last year.
The new data were released Tuesday as part of a revised update to the Youngstown/Warren Regional Chamber's annual report that tracks the work of groups such as the Mahoning Valley Economic Development Corp., the Youngstown Business Incubator and the Business Resource Network, which assist companies with tax incentives, loans, grant oversight and a number of other resources.
The update shows that the agencies helped produce 1,641 new jobs and maintain an additional 5,553.
Those figures helped the Youngstown-Warren region's jobless figures to stay below the national average for seven out of 12 months last year — an indication that growth is occurring and the economic recovery here is being sustained, according to the chamber.
Overall, jobs grew by 0.9 percent in 2012, with a 1.6 percent increase in the manufacturing sector, a 2.6 percent increase in trade and a 1.4 percent increase in education and health services, to name a few of the bright spots in the report.