New Orleans trip inspires children's art camp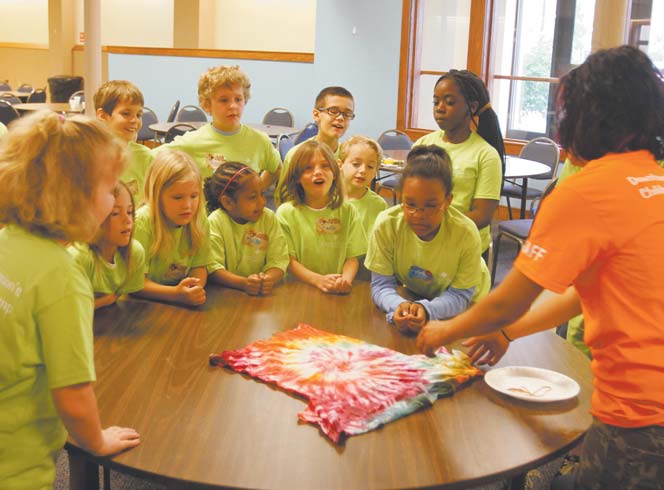 ---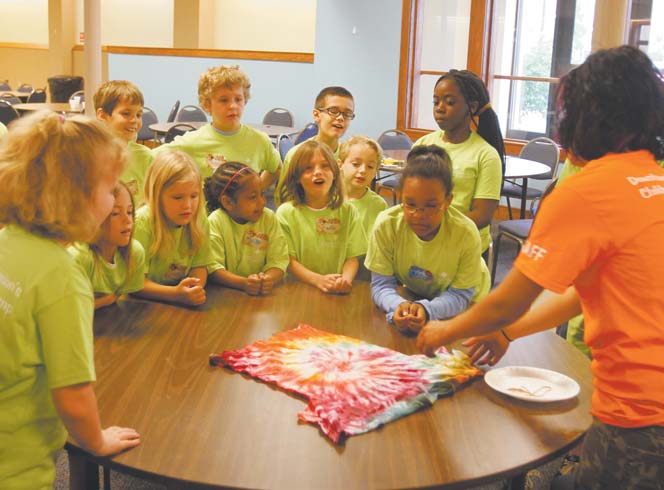 Photo
Kristie Gearhart, right, assistant director at the art camp, gets the attention of participants as she shows the result of the tie-dye T-shirt project. Children will wear the shirts during the week.
By LINDA M. LINONIS
youngstown
The Rev. Edward Brienz observed that "volunteers always seem to get more than they give."
As director of the office of missions and evangelizations in the Catholic Diocese of Youngstown, Father Brienz coordinates mission trips to places such as New Orleans, which was devastated by Hurricane Katrina. He has been the director since 2005, when Katrina struck the Gulf Coast.
The trips continue, and it was in New Orleans that the inspiration for the Downtown Mission's Children's Art Camp. It is underway at St. Columba Cathedral parish hall.
Michelle Gearhart, a member of St. Columba and part-time worker in the mission office, and Father Brienz were in New Orleans on such a mission trip.
Father Brienz asked Gearhart to assist a nun who was running an art camp for children in the French Quarter. "I told Father Brienz I loved it. He told me to take notes because I would be doing it in Youngstown," said Gearhart, who directs the camp.
This year marks the second children's art camp sponsored by the U.S. Conference of Catholic Bishops Office of Black and Indian Missions. Camp participants number 25 children from 6 to 11 years old. They are children of mothers at Beatitude House, from families at the cathedral and other churches.
The camp experience is filled with creativity and fun. That's the gist of what Father Brienz and Gearhart took away from the New Orleans camp. "We might have gone there to help people who had little, but we came away with more," Father Brienz said.
The priest said he appreciates "the rich history of religious education" in New Orleans. "That's something the storm couldn't wipe out."
In the history of the Church, Father Brienz said, "Art has been used to teach what we believe."
Gearhart said during the week the children will be making various art projects. The finished products will be featured in a display at noon Friday in Bliss Hall at Youngstown State University, where the children also will present a musical program for parents and friends.
On Monday, the children were engaged in decorating T-shirts, which they will wear all week. The logo on the shirts identifies them as participants in the children's art camp sponsored by the bishops conference.
Dr. Daniel W. Laginya, music director at the cathedral, and Barb Zorn, a member of the cathedral choir, conduct a daily music lesson with the children.
On Wednesday, children will take pots they've decorated to the Davis Visitors Center at Fellows Riverside Gardens at Mill Creek MetroParks. They'll also tour the rose garden.
On Thursday, children will visit The Butler Institute of American Art and take part in a scavenger hunt.
Gearhart's daughter, Kristie Gearhart, assistant director, an art major at YSU, plans the art projects and helps the children execute them. There will be a Noah's art project in which children will make paper boats, and another project will use melted crayons.
Gearhart said she hopes children "take away some culture and different experiences."
Father Brienz said he hoped camp participants would learn that "creativity comes from God." When they make something beautiful, Father Brienz said, it's because of that gift from God. "Art can make people happy, calm, feel welcome. It expresses feelings that reveal God's love."
Volunteers are Haben Voorhies, assistant director, and Ariana Kennedy, Isabel Stober, Sue Fizet, Rachel Wiscott, Marly Kosinski, Karla Yohman, Brandon Yohman, Laura Elder, Nicole DeLucia, Frank Rossetti, Carole McDonough and Heather Seno.