Making something out of nothing
YOUNGSTOWN
Inner City Garden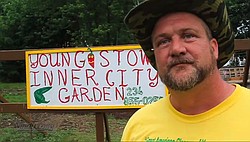 Video
A Youngstown man has turned a vacant trash-filled lot into a garden.
A Youngstown man's hard work and persistence has turned a vacant parcel on the city's South Side from an illegal dump site into a inner-city garden.
Mason Carratt of Idlewood Avenue spent the past year cleaning the overgrown, garbage-filled property at 3406 Hillman St. That property abuts Carratt's backyard.
While that process was slow, once the site was cleared of debris — including 80 tires, chunks of concrete, bricks, roofing materials and lumber as well as high grass — Carratt and a handful of volunteers planted the fruit and vegetable seeds.
In about three weeks, the vacant parcel was transformed into the "Youngstown Inner City Garden," with a sign in front with that name.
Carratt planted watermelons, cucumbers, squashes, lettuce, collard greens, tomatoes, beans, peppers, sweet corn and lettuce.
The fruits and vegetables will be ready to be picked in about two months.
"It's guerrilla gardening," Carratt said. "I'm making something out of nothing. I started with a shovel, a wheelbarrow and a dream."
Carratt, who said he spends 14 to 16 hours a day taking care of the garden, wants to donate all of the fruits and vegetables he grows to senior citizens and the disabled who live at the nearby Grovewood Manor as well as anyone in need of food.
"I look at it as a way to feed people," he said.
Carratt, injured in an accident four years ago that damaged his left foot, started gardening shortly after that incident to help reduce his food expenses.
Carratt, who acknowledges he is a recovering alcoholic and drug user who served time in prison, said the inner-city garden is one way to help others who have similar backgrounds.
Carratt's effort and enthusiasm has inspired others to help.
Among those with him Monday were Matthew Miner, who lives nearby and is attending Youngstown State University working to get a bachelor's degree in social work, and Dan Hegg of Boardman, a retired contractor and painter.
"It's an excellent project," Hegg said. "Mason puts a lot of time and effort into this. But he needs help. He doesn't need engineers. He needs bricklayers and people with shovels. What's great about him is his willingness to accomplish good things. It inspires me."
"The garden is beautiful," Miner added. "It's people putting hard work and their soul into it to help feed people. Hopefully we're able to touch quite a few people and get their bellies full of fresh fruit and vegetables."
Miner painted the garden's name sign and another giving away free "seed bombs."
"Seed bombs," Carratt said, are seeds inside clay, rolled into a ball. You can throw them, and after a while, the seeds will grow out of the clay. They are particularly useful on vacant land by providing produce to those who find them, he said.
Carratt needs wood and fencing for the garden, and has set up an account at Huntington Bank branches for his effort. Those who want to donate can go to a Huntington branch and mention the Youngs- town Inner City Garden.
Carratt said those wanting to get involved can contact him by email at helpinghands4utoday@yahoo.com or helpinghands4utoday@gmail.com, or call him at 234-855-0259.
Carratt is seeking the help of the Mahoning County Land Bank to obtain a title to the Hillman Street garden parcel, and a dilapidated vacant house at 3328 Hillman St., next door to the garden.
Carratt submitted an application for the parcels May 31, and the land bank usually takes 30 to 45 days to review that information before taking action, said Roger G. Smith, its director of planning, acquisition and disposition.
Carratt wants the city to demolish the house next to the garden before he would agree to own it.
The city would have to agree to turn the properties over to the land bank, which could then give the titles to Carratt, Smith said.
That process usually takes nine to 12 months, sometimes longer, he said.
But Carratt isn't too worried about the garden being on someone else's vacant lot.
Also, he's already eyeing two empty parcels across the street from 3406 Hillman St. for the location of pear and apple trees.