Cop back on the road after serious illness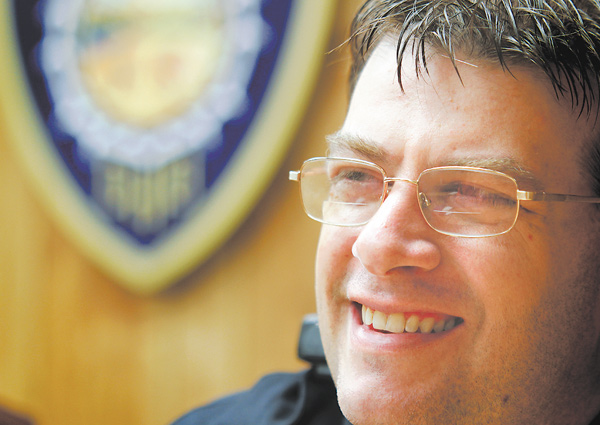 ---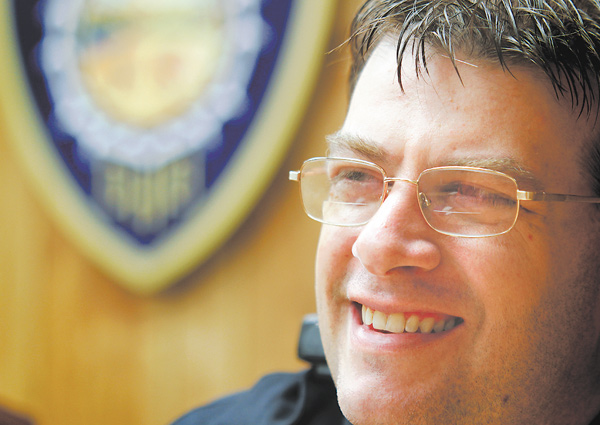 Photo
By Joe Gorman
YOUNGSTOWN
Although he faced down cancer and won, Victor Gasior was still a bit nervous going back to work last week.
He had been gone for 14 months from the streets of the North Side beat he had patrolled as a member of the police department since 1997, and when he first hit the streets Monday after afternoon roll call in car 105, he admitted he was anxious.
But after a short time, he said everything returned to normal.
"For about five minutes I was nervous," the 40-year-old Gasior said. "Then after that, it was like I never left. I got back right into it."
"I've already arrested three people," he added with a laugh in the department's roll-call room last week just before the afternoon shift came on. "It's like I never left."
Gasior, however, wasn't in a laughing mood in January 2012 when he was diagnosed with cancer after a mole that was taken off his back tested positive for melanoma. He had two surgeries on his back, then another after it was discovered the cancer had spread to the lymph nodes in his arms.
After that surgery, he used up all of his sick time, which was three months, and began a treatment in Canfield known as Interferon.
Gasior, a native of the South Side and graduate of Austintown Fitch High School, said he was stunned he had cancer and it took him a long time to come to grips with it.
"Honestly, I probably didn't comprehend it for six months," Gasior said. "I was in such shock, it went over my head."
Chief among his worries were his children, Joseph, now 6, and Lily, 4. The treatments sapped his strength and he found it hard to play with them. He said they knew he was sick but had no idea how serious it was.
"I would sit up at night and wonder, 'If something happened to me, who would take care of them?'" Gasior said. "That was more scary."
His wife of eight years, Kim, said in retrospect she is glad the children were little enough not to know the seriousness of their father's illness.
After he used up his sick time, he came back to work but could not be on the road because he could not carry a gun, because of the medicine he was taking as part of his therapy. He took reports or worked in the 911 center.
But a lot of those days he was struggling and had to leave several times to be sick, then come back.
The department had several fundraisers to help him with his expenses. Coming back to work and patrolling his beat again was one of the things that kept him going, Gasior said.
"It was definitely a goal," he said.
Kim Gasior said her husband's co-workers not only helped with fundraisers, but with making sure her husband was looked out for when he was working during his treatments.
"Without them, we wouldn't have made it," she said.
Besides the Interferon treatments, Kim Gasior said her husband also had radiation treatments that gave him burns, so he had to stop for a while and then start over. He also had a port put into his chest.
Detective Sgt. Cindy Dellick, one of the supervisors on afternoon turn, said Gasior's desire to go back to work shows how tough he is.
"He wanted to be here," Dellick said. "He is dedicated."
Dellick said Gasior is an asset, both to the department and to the shift he works.
"I'm thrilled to have him back," she said. "He's one of my best officers."
Patrolman Chad Zubal has worked with Gasior for several years and said he also was happy to see him back.
"It's a benefit to have him back because of his experience and his knowledge," Zubal said.
Gasior said he missed his fellow officers, especially the camaraderie they share, when he was not on the road.
"They're all good dudes," Gasior said.
He also said he missed his beat, which is everything west of Fifth Avenue. He said he especially likes the older mansion-style houses on Fifth Avenue.
"It's probably the nicest part of the North Side," Gasior said.
Gasior said with the treatments completed, there is a 50-50 chance of the cancer coming back. He said he feels good now and is anxious to play with his children.
Kim Gasior said the strength her husband showed in fighting through the treatments and in wanting to return to work reveal what kind of man he is.
"I have the best husband in the world," she said.