Festival and Feast Day recognize heritage and faith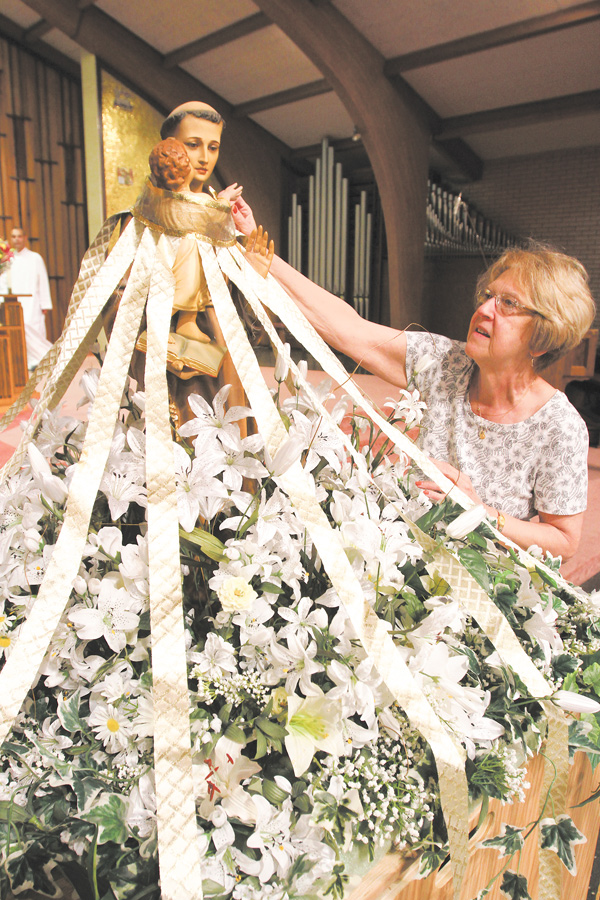 ---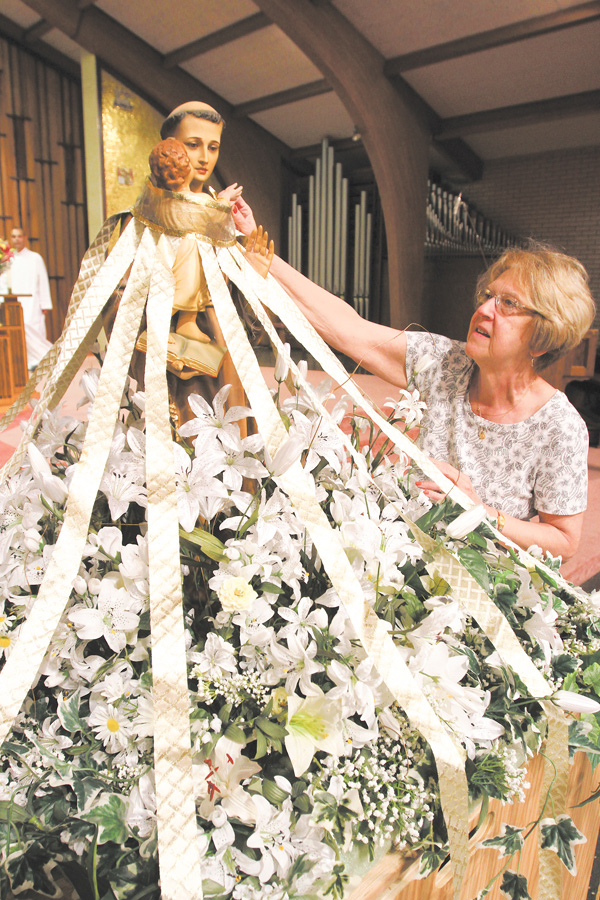 Photo
Kathy Rimedio, a member of St. Anthony of Padua Church, 1125 Turin St., Youngstown, decorates the statue of the patron saint with white and gold roses. A Feast Day Mass will take place at 6 p.m. Thursday followed by a festival with food and music. The statue will be featured in an outdoor procession at the event.
By LINDA M. LINONIS
youngstown
A Feast Day rich in religious meaning and a festival recalling ethnic heritage remain a vibrant tradition at St. Anthony of Padua Church, 1125 Turin St.
The Feast Day of the patron saint will be observed at a special Mass at 6 p.m. Thursday featuring an outdoor procession with the saint's statue. Brier Hill pizza made by church members will figure prominently in the festival that will follow with music by Lowellville Mount Carmel Band.
The saint is revered at the church named in his honor, which is part of Our Lady of Mount Carmel-St. Anthony of Padua Parish. Monsignor Michael J. Cariglio, pastor, said both Italian-heritage churches have a longstanding "great devotion" to the saint. St. Anthony was founded in 1898 and Mount Carmel in 1908.
Monsignor Cariglio said St. Anthony is one of the popular and revered saints, who is credited with numerous miracles. St. Anthony is unique, the monsignor said, because of his quick canonization. That occurred 11 months after his death on June 13, 1231.
Monsignor Cariglio said a 13-week novena to St. Anthony at both churches has led up to the celebration.
St. Anthony of Padua was a Franciscan priest and doctor of church known for his heartfelt and eloquent preaching. He is the patron saint of lost items, the poor and travelers.
Monsignor Cariglio said many Catholics and others know the rhyme to locate lost items: "St. Anthony, St. Anthony, come around, so this lost item can be found." The association could be attributed to the saint's devotion to reaching lost souls and stories of lost items found after praying to the saint.
Monsignor Cariglio said Feast Day observances are important in the Church because they recall saints' "journey of life" and "celebrate their qualities." In recalling the journey, he said, "We should see time itself is sacred when we realize what the Lord has done for the communion of saints."
The pastor said the occasion is "more like a gathering of family." The fest has "good food," the monsignor said. Pizza frita (fried dough), homemade sausage, cavatelli and meatballs and Italian pastries are on the menu
Carol Rimedio-Righetti, a Mahoning County commissioner, and her brother, Bob Rimedio, are long-time church members involved with the fest. "We've been doing it forever," she said. "Religion and Italian heritage are valued."
Rimedio-Righetti said years ago, the Feast Day celebration traveled through Brier Hill neighborhoods as the St. Anthony statue was carried in procession. Now, the procession remains on church grounds, ending at the outdoor shrine. "It's a beautiful event," she said, adding that the tradition remains treasured. "I think it's something important to share with young people."
Kathy Rimedio, Bob's wife, decorates the St. Anthony statue for the procession. She said real flowers were used years ago then multi-colored silk ones. For the church's 100th anniversary, white and gold were the color theme, and that has remained. The statue also is on constant display in the church, she said.
Rimedio said she especially likes the statue's pose in which the Infant Jesus reaches toward St. Anthony. The saint is often pictured with Infant Jesus, which recalls the miracle that happened when he was staying in a monastery, Monsignor Cariglio said. A custodian saw a light under St. Anthony's door when there should be none and heard voices when there should be silence. After seeing it multiple times, the man opened St. Anthony's door and witnessed him conversing with Jesus.
The saint also is known for St. Anthony's Bread charity, which began in the 1890s. In 1880, Louise Bouffier, who had a bakery in Toulon, France, couldn't open the door one day. A locksmith said only force would do it. She prayed to St. Anthony, promising bread to the poor, and the door opened.