Canfield grads face new choices, challenges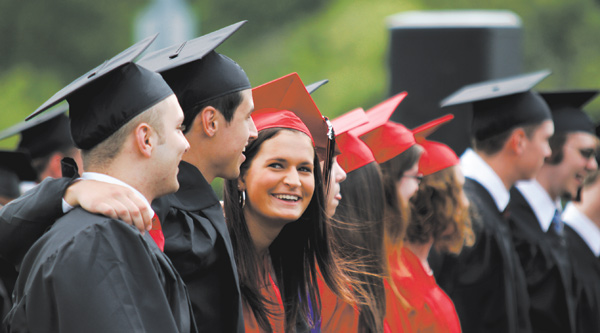 ---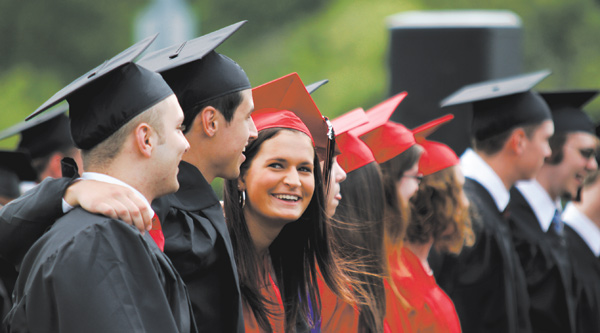 Photo
Stephanie Carrocce smiles while singing the alma mater during Canfield High School's commencement exercises Sunday afternoon at the school's football stadium.
By ELISE McKEOWN SKOLNICK
CANFIELD
At every interval of life you have to start at the bottom, Richard Weiss told the Canfield High School Class of 2013.
That applies to the graduates as they leave high school and move on to the next chapter of their life, the former Canfield teacher and athletic director added at Sunday's commencement.
"The big question today is, 'How do I get to the rest of my life from here?'" he said. "Be assured, luck and hope are not reliable strategies. It's the choices you make in life that are critical to your success."
He encouraged them to learn to make the best choices, based on whom they represent, what kind of world they want to live in, and how they want to be remembered.
Emily Gianetti's choice for her next step in life is taking her to Youngstown State University in the fall to participate in the NEOMED program. She plans to be a doctor.
"It's the end of a chapter and the start of a new one," Gianetti said. "I'm excited and scared. I think every time you start something new you're a little bit scared. But I'm definitely excited. It's something I really want to do."
The valedictorian said the 12 years of school seemed to pass quickly. She participated in drama club, National Honor Society, interact club and more.
Though she feels prepared for the next phase of her life, she will miss seeing her friends every day.
"We can still talk to each other, but we'll have to Skype or Facebook. Seeing those people in person every day is definitely something I'm going to miss," she said.
Classmate Michael Barkett also will attend YSU in the fall. He will major in music.
As class president, he led his classmates onto the football field where they received their diplomas.
"I'm very excited," he said. "It's been an awesome four years. It's been fun leading the class."
Like Gianetti, he's ready for college.
"I think Canfield made me prepared," Barkett said. "I think my parents prepared me very well. And that's probably why I'm not scared."
He participated in school government and played trumpet in the band.
He will miss the camaraderie among his classmates.
"We're all going off in different directions now. I'm glad for everyone, but there will be some people that you won't be able to see anymore. Everyone's starting their own life once again," he said.