---
"Spring is coming, this I know, for the robin told me so. Flowers and grass are going to grow, Winter goes with ice and snow."
Booker Articles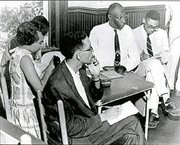 Document
Articles about Simeon Booker.
Those are the first published words of Simeon Booker Jr., printed in The Vindicator when he was a fourth-grader at Madison Elementary School around 1928.
Now 94, he has published millions more words.
Not all are as beautiful.
You have read about the 1950s lynchings of black men in the South.
And about the Emmett Till murder that launched the civil rights movement.
And the Freedom Rides, where buses were torched and people were
beaten by the KKK.
And the marches in Selma, Ala., and Washington, D.C., in the
pursuit of racial equality.
Bearing witness to those incidents and countless more was a bow-tied, well-dressed reporter — Booker.
He meticulously and painfully recorded it all, in his words, to force America to see what the white press of the day often would dare not report.
Most of his work was for Jet magazine. But it also was featured in the Washington Post as that company's first black reporter in 1952.
His work continued right up until the election of Barack Obama, the nation's first black president.
From the 1950s lynching coverage to Obama's swearing in, Booker's picture albums show him with a who's who of America's leadership: Eisenhower, King, Nixon, Reagan and Clinton.
Many of those men have been or will one day be enshrined in the country's most hallowed halls. You could argue that Booker and his life's work itself have earned him the same type of remembrance.
A book and a beginning
All of these tumultuous years have just been chronicled in a new book Booker wrote with his wife, Carol.
"Shocking the Conscience" is his account of America's civil rights movement from his front-row vantage point. Living in Washington and recovering from three broken ribs suffered from a fall, he said the book was a long time coming. He first published "Black Man's America" in 1964. He had a second book ready a few years later.
"I stopped the second book when King was killed," Booker said. "How can I write when I don't know who will die next?"
A few weeks later, another contemporary, Robert Kennedy, was killed. And the book would wait some 45 more years.
The election of Obama is not an end to Booker's life pursuit. To Booker, Obama's election is a beginning.
"We were absolutely elated, glued to the TV, for Obama's election," said Carol. "It's a symbolic pinnacle of everything (Simeon) fought for."
But it's not a Hollywood ending, Simeon Booker said.
"There's a whole lot still to be done. There are still too many black arrests, pregnancies and unemployed. It's wonderful to have Obama. But it's just the end of the beginning."
Booker's beginning
Racial transformation has been part of Booker's life from his earliest days.
His father moved to Youngstown from Baltimore to open the city's first black YMCA, which is now in the building used by the Rescue Mission of Youngstown and the Mahoning Valley on Martin Luther King Jr. Boulevard.
Booker Sr. ran the facility for 35 years before directing Third Baptist Church on Park Hill Drive on the South Side. He died in 1960. His wife died four years earlier in a car crash.
Booker's family was well-educated, including Harvard graduates, school superintendents and a physician. His mother graduated from Columbia College.
Two things that Booker remembers most of his youth:
"I had a lot of white friends; we all got along great," he said of life growing up on Myrtle Avenue on the South Side and graduating in 1938 from South High School.
And he remembers The Vindicator. In his book, he wrote:
"The Vindicator hired a Negro to write a column called 'News Notes for Colored Folks.' Into this column went everything about the city's 'colored folks.'"
Booker recalls it being an early inspiration for him to be a writer. He also recalls legendary Vindicator writer Esther Hamilton taking him under her wing. She published some of his work, and on one occasion, his mom baked him a cake to celebrate.
While in college, Booker would write game stories from the local black baseball leagues. Vindy Sports Editor Frank Ward gave him plenty of space and advice.
"From an early age, I knew I wanted to be a writer. Teaching and preaching were the best advances for blacks at the time. But I wanted to write," Booker said.
Father, son and race
Racial concerns marked two of Booker's turning-point moments in Youngstown and also a difference in approach between father and son.
As a first-year student at Youngstown College in 1938, Booker protested the lack of activity cards for black students. Activity cards were the key to dances, student activities and other social affairs.
Tim Seman, local history librarian at the Public Library of Youngstown and Mahoning County, worked with other local historians to find that no official exclusion policy existed, but it was a practice, nonetheless.
In "Steel Valley University," a book about Youngstown State University, they found: "There was tacit understanding that blacks would not attend the college social, and student activities books were not distributed to them."
It continued that way until the 1950s. But not for Booker.
He protested, and a standoff was looming.
Booker said his father did not want him to protest.
"The ideal way to solve it, believed Simeon's father, was to let it go, and they sent him to Virginia Union, where his father graduated," said Carol.
Another Youngstown clash was in 1969. Booker was to speak at a city gathering during the tenure of then-Mayor Anthony B. Flask. In the buildup, he was critical of Flask's administration and the lack of blacks employed by the city. Vindicator archives show Booker was advised to not make remarks at the city gathering critical of the mayor. And with that, he declined to speak at all.
His last known official appearance in Youngstown was at a dinner in 1974 to call attention to sickle-cell anemia, a blood disorder most common to blacks.
Booker's travels
We sit back often at our functions and recite where Youngstowners have gone and what they've done. That list touches business, some politics, some stage and screen, and it always comes back to football and sports, to be sure.
To trace Booker's steps is humbling. If you're telling a story of a Valley resident who's achieved, accomplished and persevered, stop for a bit and absorb Booker's story.
He came back home after graduation, and having trouble finding work in the white press, found work at black newspapers in Baltimore and Cleveland. Always eager to attend Harvard after his uncle's feats, he finally won that university's prestigious Nieman Fellowship on his third try, and knew upon completion he needed a stronger life path.
The 1950s was not the right time for a black reporter in the white press, and that's what Booker said he encountered. Nonetheless, he doggedly pursued a job at the Washington Post. A Post article recounts Booker's tale about how he became the paper's first black reporter in 1952:
"Phil Graham said if you can take it, I'm willing to gamble."
Thus it happened, but it was not easy.
That same Post story continued:
"Most of his stories ended up in the back of the newspaper by classifieds. He could only use one bathroom.
"If I went out to a holdup,' Booker said in that story, "they thought I was one of the damn holdup men."
His time at the Post ended in 1954. He jumped to the black-owned Johnson Publishing in Chicago, owners of Jet and Ebony magazines, and that began a 53-year career on the front row of America's racial divide.
"I was a newcomer with no experience and thus no influence over what I covered," said Booker on leaving the Post. "[At Jet], I could develop my own agenda for covering news: segregated conditions in the South, lack of job opportunities for blacks, poor housing, inferior schools, denial of voting rights, and so forth."
Hate, violence and death
He started at Jet just as the 1954 U.S. Supreme Court's Brown v. Board of Education decision came down, eliminating separate black and white schools. It ignited America, and Booker was ready for it.
It started with a voting rally in Mississippi. Soon after, the lynchings started. Booker vowed that future killings — ignored by the white press — would be covered by the black press. As his book's liner notes highlight, he did not have to wait long.
Emmett Till was a Chicago-born, 14-year-old visiting relatives in Mississippi in 1955. He had a conversation with a white woman there. Hours later, her husband and friends showed up where Till was staying. They took Till.
He would have been just another dead black kid in Southern America's tortuous times, were it not for a steadfast mother and Youngstown's Booker.
About to be buried in Mississippi, Till's mom demanded he be taken back to Chicago for proper burial, and there, she insisted on an open casket to allow him to be viewed and photographed.
Here's a 2007 Washington Post account:
"Booker told a photographer to follow him to the funeral home. ... He was the only newsman there. 'Ms. Till didn't have anyone else in the press she knew,' Booker said."
It would become the photo — a young child dead, face swollen, eye gouged out — that would force America to examine itself. Many credit the photo for launching America's civil rights crusade. And Booker was in the front row.
The Freedom Ride
Around the South went Booker. He was coy.
"He never wanted to stand out," said Carol. He used nondescript cars. He posed as a poor minister with a worn Bible. While historically outspoken and defiant, in the South, he tried to stay on the sidelines and write and observe.
"My talent to write was my vehicle," he said.
And even observers were not safe.
"If you were an observer and you were black, you were a participant," Carol said.
The first Freedom Ride stands out as among his most harrowing.
In 1961, two buses left Washington for a trip through the South and in defiance of laws that forced segregated travel. Violence along the way mounted.
In Alabama, KKK-led citizens firebombed the lead Greyhound bus just outside Anniston. Booker was in the second Trailways bus an hour behind. As it traveled through Anniston, it was boarded by the KKK, who began beating the white Freedom Riders first.
Booker sat in the back of the bus pretending to read a newspaper so as to avoid an encounter. But he had a hole cut out so he could watch the beatings and report what had happened.
An amazing journey
Among Washington's who's who, Booker is a who's who.
The list of people who offered reviews on his book includes Don Graham of the Washington Post, U.S. Reps. John Lewis and Bobby Rush, U.S. Ambassador George Haley and renowned journalist Eleanor Clift.
Clift talks about today's celebrity journalists and is one herself, from work with Newsweek, MSNBC, The McLaughlin Group, Fox News and The Daily Beast.
Booker's work, she said, is that of an American journalism legend.
"He's lived the whole cycle of civil rights. Well before white people knew it existed, black people knew, and he was there at the start," she said Friday.
"He covered the trials, he endured the hate, the humiliations, and persevered. There were so many points he could have walked away. And he did not. That was how Simeon lived."
For Booker, he would not have changed a thing.
Words to live by
"Spring is coming, this I know ..."
The America Booker lives in is distanced from the Youngstown of his younger days. Per his fourth-grade poem, spring has come.
But even with a slowed life, he's keenly aware of the challenges that still exist. To remember his poem, it still could be "the winter of our times."
"Much of the lowest stratum of the black community seems to be going down rather than up," Booker said, pointing to a need for better efforts from all, including the black community.
"I attribute some of this to the loss of black middle-class leadership in marshaling the resources."
You get the feeling that were it not for a 94-year-old body, he'd still be posing as a preacher or peeking through a newspaper hole — if it were able to cause change. How history judges him, he says he'll leave others to decide.
"I believe my reporting in the Deep South helped to reopen doors that had long been slammed shut on blacks. I believe I also have contributed in some way to the ever-growing number of Americans who want to see true equality of opportunity for all, regardless of race, creed and color."
And he did it the hard way, even when he could have avoided it. On the night before the Freedom bus ride, Booker had the chance to choose another route. He could have avoided the beatings, the blood, the violence.
Those warnings and advisement the night before came from Martin Luther King Jr. Booker recounted King's words to him:
"You won't make it to Montgomery. They will waylay you."
Booker went.
On the threat of violence that day and a chance to decide another path, Booker would later write:
"I thought of my wife and three kids in Washington," wrote Booker in 1964.
"But fear never produced progress."
Todd Franko is editor of The Vindicator. He likes emails about stories and our newspaper. Email him at tfranko@vindy.com. He blogs, too, on vindy.com. Tweet him, too, at @tfranko.