Eight players qualify at Mohawk Trails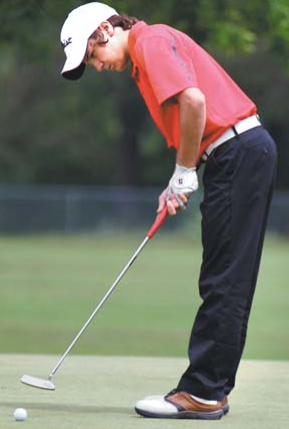 ---
Ray, Booze shoot 78s in boys 15-17 division in GGOV event
By Brandon Judeh
NEW CASTLE, pa.
The second junior qualifier of the Greatest Golfer of the Valley presented by Farmers National Bank took place at Mohawk Trails Golf Course Saturday afternoon.
Thirty-one area golfers ages 12 to 17 participated with the top two in each age group advancing to the finals on July 28 at Trumbull Country Club in Warren.
Donavan Ray and Gerry Booze shared the top spot in the boys 15-17 division, both shooting a 78, while Melinda Hannon took top honors for the girls 15-17 with an 87.
Alexis Cadle also advanced shooting an 88.
"I wanted to go a little lower than 87 today, but overall I just wanted to play better than I did last season," Hannon said.
Hannon played a lot better than she did in last year's event as she narrowly defeated Cait Butler and Cadle by one stroke.
As the mostly overcast day gave way to sunshine, Cadle had to sweat it out in the clubhouse for nearly 15 minutes as she waited to see if she or Butler would win the tiebreaker.
"I'm feeling pretty happy, but in a way I feel bad because Cait narrowly missed out on advancing," Cadle said.
"Today was kind of a blur for me," Butler said. "I had my ups and downs on both the front and back nine, I had a feeling that 88 wasn't going to be enough to advance."
Cadle redeemed herself on the back nine, shooting a 41, after shooting a 47 on the front nine.
While the ladies went down to the final moments, both Ray and Booze advanced with ease.
The pair outshot third-place finisher Joey Shushok by three strokes.
"I hit the ball pretty well today, but I struggled on all of the par-5 holes," Booze said. "I had a lot of trouble reading the greens. I also had some three putts that put me back a little bit, but I played much better as the day went on."
Ray agrees that the greens were tricky to read.
"I had some problems with my putting," he said. "It's hard to read the greens here, but this was my first time playing this course, so I'm not too familiar with the ins and outs of all of the holes."
Jared Wilson (73) and Cade Kreps (85) qualified in the boys 12-14 division. Cole Christman (75) actually had the second-best score in the divison, but Kreps qualified because Christman did so in a previous event. Jenna Vivo (81) and Hadley Spielvogel (94) qualified in the girls 12-14 division.
Greatest Golfer of the Valley is in its fourth year. The next junior qualifying event will be June 24 at Salem Golf Club.
Visit Vindy.com/golf for more information on the Greatest Golfer of the Valley junior and adult divisions, which play in August.