Miss D'Apolito and Mr. Daltorio set July wedding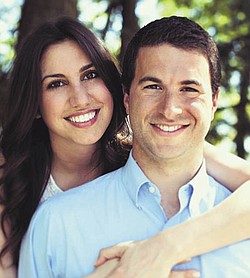 Photo
GINA-MARIE D'APOLITO AND DOMINICK DALTORIO
Gina-Marie D'Apolito of Boardman and Dominick Daltorio Jr. of New Middletown are engaged to be married, their parents are announcing.
Her parents are Mr. and Mrs. John D'Apolito of Boardman, and his parents are Mr. and Mrs. Dominick Daltorio of New Middletown.
Invitations will be extended for the wedding, to begin at 4:30 p.m. July 12 at St. Luke Church, and for the reception at Mr. Anthony's Banquet Hall, both in Boardman.
Miss D'Apolito graduated from Ohio State University with a degree in English. She is employed as a store manager by Anthropologie in Westlake, Ohio.
Mr. Daltorio, who graduated from Akron University with a degree in math education, works as a math teacher for Struthers City Schools.