Retiring Warren chief expects improvements in department culture to continue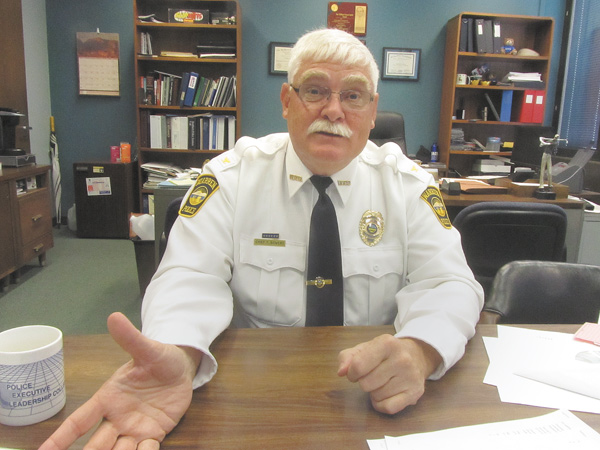 ---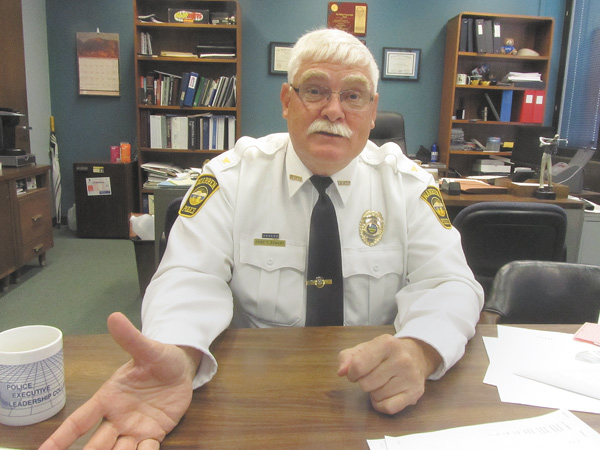 Photo
Tim Bowers, Warren police chief, makes a point during an interview at his office at the Warren Police Department. Bowers retires this month after 35 years as a police officer, four years as chief.
By Ed Runyan
WARREN
Tim Bowers has been police chief for only four years, but the last decade of his 35 years as a cop have put him in a position to help mold the "culture" of the Warren Police Department.
That culture came under scrutiny in 2003 when members of the community complained of harassment by some in the department, including improper strip searches and excessive force.
This led to an investigation by the U.S. Justice Department that found the department was guilty of unconstitutional policing through improper use of force.
Years of training followed, much of it overseen by Bowers, who was a captain for nine years under Police Chief John Mandopoulos. Captain is the top rank below chief.
A formal agreement between the city and the Justice Department, filed in U.S. District Court in Youngstown in January 2012, laid out the expectations for how the department should operate to ensure the safety and rights of its citizens.
In the 16 months since, Bowers has focused on implementation of an early-intervention and risk-management system to identify behavioral problems among officers, and to train officers to find ways to de-escalate confrontational situations.
Bowers, who retires June 17, said he believes Capt. Eric Merkel, who already is serving as police chief for the most part, will continue the changes.
"I believe we are right now in the middle of a cultural shift. This stuff doesn't happen overnight," Bowers said.
"It doesn't happen in four years. We're in the middle of getting this battleship turned into the right direction," he said.
Bowers said he believes Merkel, who is in the management position Bowers had before Bowers became chief, will continue to modernize the department's understanding of its mission.
"I'm confident he'll do a good job. He's educated, he's trained, and he understands the cultural change we're going through. I think he'll continue this turn to get us back on the track we need to be on."
Bowers said some ways he educated himself were to join the International Chiefs of Police, Ohio Chiefs of Police, Mahoning Valley Chiefs of Police and Trumbull County Chiefs of Police.
"We were behind the eight ball. We hadn't advanced with the philosophy of today, like community policing. We didn't embrace that concept like other departments did," Bowers said of the problems the department encountered a decade ago.
Community policing involves forming relationships between the police department and the community it serves. Bowers said the opposite of community policing is the philosophy the department once had — "We're the police, and you're not."
Bowers said he considers it a serious issue that the Justice Department found the department guilty of unconstitutional policing.
"We've all taken an oath to uphold the Constitution, and here's a federal agency that says this department as a whole is guilty of unconstitutional policing. Does that mean we've all violated our oath?
"And I set out to assure that every man and woman in this department understands that they did take an oath and that it is a serious matter," Bowers said.
He has tried to improve the professionalism of the department by treating officers as professionals, by giving them the best police cars, training and equipment, such as video and audio recorders, and expecting a high level of professionalism from them.
"There has been more discipline in the last four years than ever in the history of this department," he said, adding that discipline doesn't always mean punishment.
"Bad behavior wasn't ignored any longer," he said. "Eliminating unacceptable behavior has probably been my biggest challenge."
As for de-escalating confrontational situations, it has meant that officers who might have wanted to forge "full speed ahead" in the past will "take a deep breath, step back, get help, communicate. It was never really taught before. It is now, and it's mandated now," Bowers said.
The result is fewer situations in which the officers and the public are placed in danger.
Bowers said he has no specific plans for his retirement, but he's too young to quit working.
"I know I'll continue my endeavors in law enforcement in some fashion somewhere."