Wheelersburg ousts Ursuline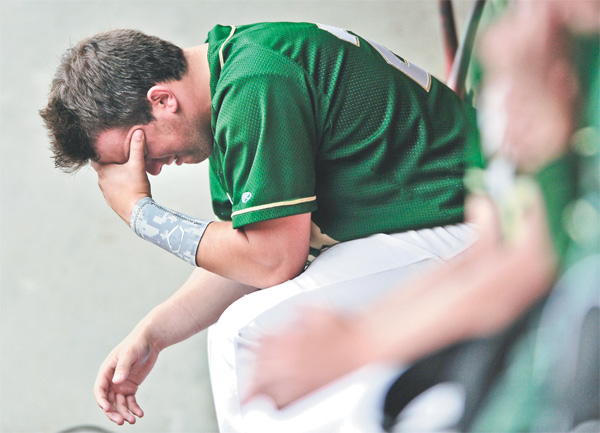 ---
Ursuline Baseball State Semifinal Game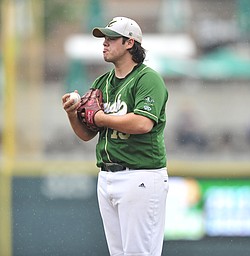 Gallery
DAVID DERMER I THE VINDICATOR
Wheelersburg pitcher
shuts down Ursuline
By Tom Williams
COLUMBUS
For six innings, the Ursuline High baseball team struggled to connect against Wheelersburg ace Derek Moore, a pitcher who has never lost a decision in his varsity career.
But in the scoreless seventh inning with Harry Finelli on first base, Irish designated hitter Mike Montalbano hit a deep fly that Pirates left fielder Derek Arthur caught on the run on the warning track near the 365 feet sign at Huntington Park.
"The kid made a [tremendous] play, running a long way to catch it," Ursuline coach Sean Durkin said. "It's hard to go that far and catch that kind of ball.
"The game's over if he doesn't make that play."
Instead, Moore struck out the next two batters to force extra innings. Then in the eighth inning, the Pirates converted an infield single, a throwing error and two hits into two runs for a 2-0 victory in a Division III state semifinal game.
"That's tournament baseball," Durkin said. "It's going to be one big break — unfortunately the break went their way."
The Irish (24-3) threw a scare into the Pirates (28-4) in the bottom of the eighth as Joel Hake, Anthony Rohan and Ryan Strollo hit one-out singles to load the bases, chasing Moore.
Third baseman Wade Martin took over on the mound, retiring Sam Donko with a high pop-up and striking out Finelli to end the game.
On Saturday, Wheelersburg will defend its state championship against Carroll Bloom-Carroll (25-5), which defeated Hamilton Badin, 3-2, in Thursday's other Division III semifinal. Badin finished 23-7.
"He kept the ball down, he threw a ton of strikes," Durkin said of Moore (13-0). "The kid has a lot of talent and he's a winner."
Montalbano said his flyout was the longest ball he's ever hit that wasn't a homer.
"I was a little disappointed after it dropped into [Arnold's] hands," the junior said. "[Moore] was tough, he worked his butt off all game."
Donko was equally impressive for seven innings, escaping major jams early. In the second inning, the Pirates loaded the bases with one out. Donko struck out Zach Brown and Sam Robinson to end the threat.
In the Pirates' next at-bat, Donko picked off Garrett Carmichael at first base then stranded Ben Arnold and Camron Parsley when Dylan Miller flew out to Vinnie Boerio.
"That's Sam — we're spoiled," Durkin said.
The Irish pitchers stranded nine Pirates on the bases.
"They are obviously a good hitting team, they put up 10 hits," said Donko, who threw 115 pitches. "We had a great run — one of the top four teams in Division III."
Rohan, the senior left fielder, had two of the Irish's five hits. He doubled in the sixth inning when Arthur was unable to hang on to his hard-hit drive to left.
Rohan, who has been bothered with a hamstring pull for about a month, did not come out for a pinch-runner.
"I told them this could be the last game, don't save it now," Rohan said. "Not the game that we wanted — we came to win.
"We knew they were the defending champs, but we had a chip on our shoulder, too. It didn't work out for us this year."
Moore struck out six batters and walked two,
"He threw well," said Rohan, who said he shortened his swing after grounding out and flying out in his first two at-bats.
Rohan said he felt an Irish surge was in the cards after the sixth inning.
"We were talking about it for an inning-and-a-half," Rohan said. "I saw it coming together.
"I'm glad we made it this far but I can't say I'm happy with the result."
In the eighth inning, Martin led off with a single and scored when Arnold doubled to deep right field.
Donko struck out Parsley and retired Dylan Miller on a ground-out. Moore then singled to score Arnold for a 2-0 lead.