Chaney High School Commencement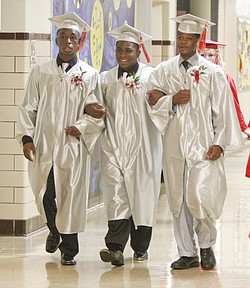 Gallery
ROBERT K. YOSAY I THE VINDICATOR
By Denise Dick
Youngstown
Two years ago, Alize' Robinson didn't know if she'd see graduation day, let alone be able to remember it.
During her sophomore year of high school, Alize' underwent brain surgery for a benign tumor.
On Thursday, she joined her 30 classmates as a member of the Chaney Class of 2013, receiving her diploma during commencement in the school auditorium.
"They said I wouldn't remember anything," Alize' said.
But she does. Her mother got her classroom work for her during the six weeks she missed school, and today she's healthy. She suffers no memory loss, she said.
Alize' spent part of her school day in the nursing program at Choffin Career and Technical Center and will study sports training this fall at Youngstown State University.
Fabian Don Juan was enrolled in the school's Visual and Performing Arts program, participating in choir and theater.
"I was the stage manager all year," Fabian said. "That's one of my proud accomplishments."
He sat alone at a table in the school library before the ceremony, reflecting on his high school career.
"I don't know how to feel," Fabian said.
He's proud of what he's achieved but sad to see it end.
Fabian plans to pursue a career as a pipe fitter and is researching training centers to find the right one.
He says he'll miss his teachers, pointing to Angela Dooley, senior class adviser, and Michael Cracraft, particularly.
Dooley was there whenever he needed advice, and he's known Cracraft since seventh grade.
"I was a boy and he watched me grow up," Fabian said.
Hy'Daisha DuVal and Cheyenne Hough, who were in the Science, Technology, Engineering and Mathematics and VPA programs, respectively, say they'll miss their peers most.
"We came a long way from freshman year to now," Cheyenne said.
Hy'Daisha will study biology in the fall at Columbus State Community College. She plans to be a pediatrician. Cheyenne plans to go to Kent State University to study criminal justice.
DeMaine Kitchen, chief of staff for Youngstown Mayor Charles Sammarone, was the keynote speaker and gave each graduate a symbolic key to the city.
"The key represents opportunity that will be unlocked for you in the future," Kitchen said.