Local resident has hair to spare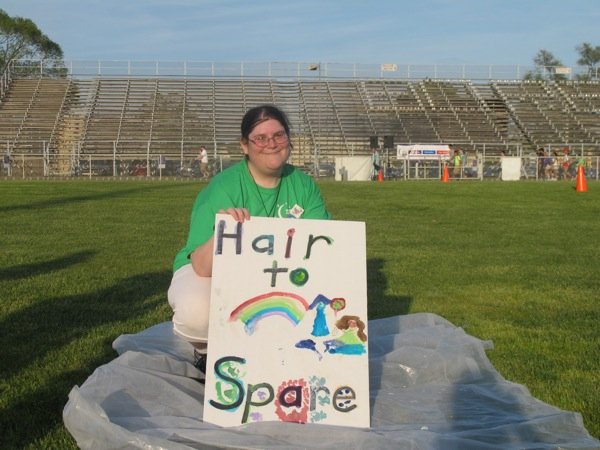 ---
By ADRIENNE CRISSMAN
Melissa Magan shaved her head during the Relay for Life May 17. The idea came from a dare from her now departed father, William Magan.
"Early in 2012, my friend in Denver went bald for children's cancer research. I had joked around with my parents that I should do the same because we had lost so many loved ones to cancer in such a short span of time, and my father said to me 'I dare you to,'" said Magan.
Magan, along with her sisters, mother and sister-in-law, was part of team Hair to Spare for this year's relay. The team raised $1,000 for The American Cancer Society.
"I formed a team of sophisticated women, all relatives, and had them ask friends and co workers for donations. I urged friends on Facebook and Twitter to donate, and back in March, we had a bake sale at Walmart in Boardman. I was lucky to get a sponsor, Pathways of Ohio Counseling Services, who donated as well. Our final donations came from the people at the relay just dropping money into our bucket and I just want to thank everyone and anyone who donated time, effort, baked goods and money that helped us achieve our goal," said Magan.
Magan and her family have been involved with the relay since 2005.
"Back in 2005, my father was diagnosed with prostate cancer and at the time, after all his chemo and radiation and a clean bill of health, he really wanted to thank everyone who was instrumental in helping him and us all out and he was also inspired by other cancer patients he had met and the passing of my uncle to cancer in 2003, so he came up with the idea of starting a team at the Relay For Life in Boardman. We started out as team Santa's Cause (because Dad was the guy in red for over 15 years) and we have always had some hand in the relay ever since," said Magan.
Magan says that cancer research is important to a lot of people.
"Its not just important to me, but to everyone who has ever been inflicted by it because everyday, someone is diagnosed with, dying from, or surviving cancer and research is extremely vital for them and because it helps educate, advocate and provide services to those families, friends, doctors, nurses who have ever needed any of these services. Also its important because, as they say at the relay, 'there is no finish line until there is a cure.'"
To start a team of your own visit www.RelayForLife.org, or for more information about how you can get involved visit The American Cancer Society at www.cancer.org.