Change 'So what,' to 'That's great,' Carano tells grads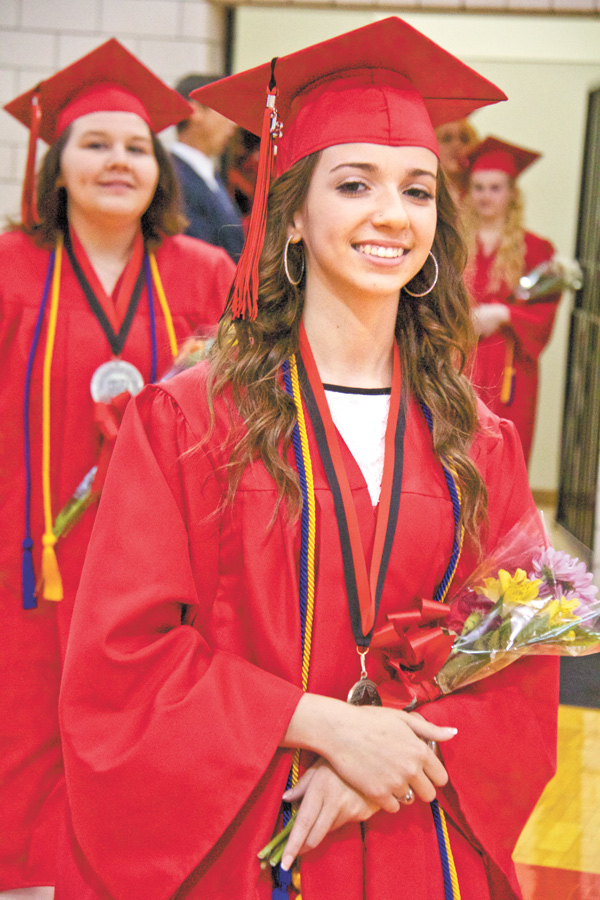 ---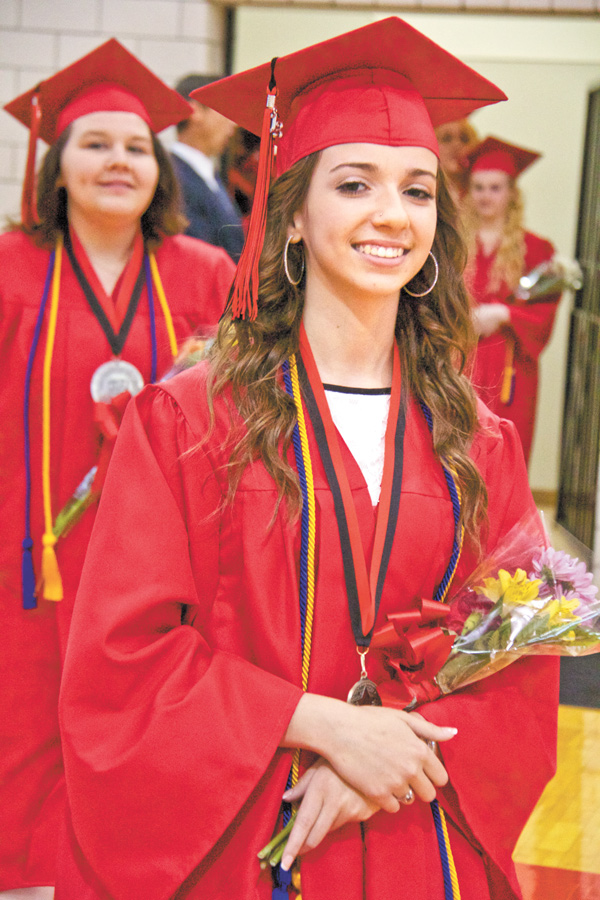 Photo
Salutatorian Brianna Wall enters the Campbell High School gymnasium at the start of Thursday's graduation ceremonies. Commencement speaker was Ken Carano, a 1961 Campbell Memorial graduate who went on to a long career as an educator and local and state politician.
SEE ALSO: • East grads embark on new journey
By ED RUNYAN
runyan@vindy.com
CAMPBELL
Among the most important characteristics required for happiness is the type of enthusiasm that refuses to use the phrase "So what?" according to 1961 Campbell
Memorial High School graduate Ken Carano.
"I wish there was a law against that phrase," the former educator and political figure told the 75 graduates at Campbell's commencement ceremonies Thursday at the high school.
"Hey, next week is vacation." "So what?" someone might say.
"Dad, I shot a 37 at golf today." "So what?"
"If we don't turn out the lights, we're going to waste electricity." "So what?"
"What an extremely boring life we'll have if we follow this philosophy," Carano said.
"Please, the next time someone makes a statement and you want to say 'So what?' — stop, put a smile on your face and say, 'That's great.'"
Carano told the graduates two other words he believes lead to happiness — humor and tolerance.
The person who tells a humorous story and brightens a person's day is "always surrounded by people," Carano said. "Why? Because he makes people feel good."
"Tolerance is one ideal most of us are not born with, but as long as we make a positive effort to understand another person's beliefs, practices, habits, without necessarily sharing or accepting them, we will be practicing tolerance."
Enthusiasm wasn't a problem for the graduates interviewed after the ceremony ended.
"I'm excited to start my future," said Artemis Koullias, who's going to school to be a hairdresser.
"I'm excited to be done. It was a long journey," said Jo Anna Villanueva, who's headed to the University of Akron to study sociology.
"It's still unreal right now. I'm excited and looking forward to what my future brings me," said Braylen Wingfall, who will be attending Thiel College.
"I'm kind of excited. I can't wait to get out of here," said Lauriel Rodriguez.
Stephanie Lesnak, who's going to study to become a cancer doctor for kids, said she's excited to begin the training that stems from her love of working with kids and the death of her aunt from cancer.
"I decided to put them together," she said.