CVMS sixth-graders take chair challenge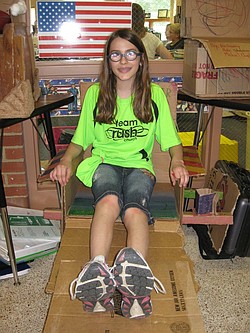 Photo
Neighbors | Abby Slanker.A Canfield Village Middle School sixth-grade student lounged in the cardboard chair she built as a science project for science teacher Michael Richards' class.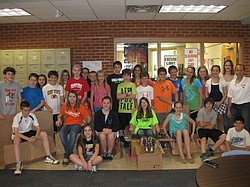 Photo
Neighbors| Abby Slanker.Michael Richards' (far right) Canfield Village Middle School sixth-grade science class demonstrated how strong the cardboard chairs they built were by sitting in them. The chairs were built using only cardboard and glue as a science project.
BY ABBY SLANKER
Michael Richards, Canfield Village Middle School science teacher, recently issued his sixth-grade students a challenge: build a chair, that someone could actually sit in, using only cardboard boxes and Elmer's glue. The students accepted his challenge and enthusiastically ran with it.
The students were broken up into groups, with each person charged with bringing in materials to build the chairs at school. The students had to flatten any boxes they used and make sure there was no industrial glue or tape still attached to the cardboard. They then had to design their chair and figure out what would make it a strong structure.
"The students used the scientific method and went through the process of trying things over and over before coming up with their final design," Richards said.
One of the groups created the 'Na-chair,' which was decorated with colorful drawings. The group used a cardboard X as support for the seat of the chair and used cardboard pipes to support the rest of the chair. The chair also included a cup holder and a detachable footstool as an added bonus.
More like this from vindy.com