Austintown Lions Club has Speakers Night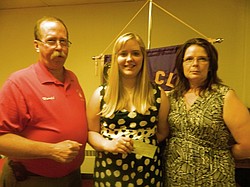 Photo
Neighbors | Submitted.Lions scholarship chairman Harold Wilson (left) presented the RDE scholarship to Caitlin Coble at the recent Lions Club meeting May 20. They are shown with Coble's mother, Sylvia (right), who was a special guest.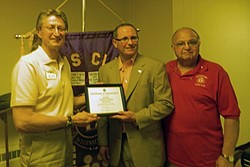 Photo
Neighbors | Submitted.King Lion Larry Jensen (left( presented a certificate of appreciation to speaker Austintown Trustee Jim Davis and speaker chairman for the evening, Bill Sywy (right) at the recent Lions Club meeting May 20.
The Austintown Lions Club had its monthly Speakers Night May 20 and also presented an RDE scholarship. King Lion Larry Jensen presided over the meeting.
Lion Harold Wilson, the club's scholarship chairman, presented the RDE scholarship to Caitlin Coble, a recent Fitch graduate who was not only very active in the RDE program, but also in the marching band, key club, drama club, chorus and French Club. She will attend Clarion University in Pennsylvania, where she will study mathematics and photography.
Serving as speaker for the evening was Austintown Trustee Jim Davis. Davis, in his remarks, delved into many subjects involving Austintown but centered mostly on the new Racino project. He gave an interesting talk on the state of Austintown and the many bonuses in store for the township, including not only the Racino but new hotels, restaurants and more employment.
He also spoke on the improvements in infrastructure, need for additional policemen and a new administration building in the future. He praised the police and fire departments for their outstanding work.
More like this from vindy.com