Bark 'n the Park promotes humane treatment of pets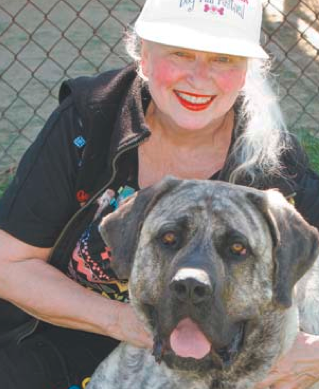 ---
By EMMALEE C. TORISK
girard
Raja is a 2-year- old American Mastiff who's a bit of a mama's boy.
On Wednesday morning, the 250-pound dog, tuckered out from jumping through a hula-hoop he's quickly outgrowing, plopped down in a shady part of Stambaugh Park near Maryanne Hoffman, his "mother" and trainer.
Raja is getting ready to perform those same tricks for a crowd Saturday at the first Bark 'n the Park, a canine fun-festival and fundraiser for the St. Francis Cadets for Pets Youth Program.
Raja is mascot for the youth program, which works to teach humane pet-care to children. He also is a therapy dog who visits area nursing homes and serves as Hoffman's co-instructor for dog training.
"Every dog has its day, and they will at Bark 'n the Park," Hoffman said.
Bark 'n the Park is a national movement that typically consists of a pledge walk, said Hoffman, founder and director of St. Francis Pet Care, a Youngstown-based nonprofit pet educational organization.
Hoffman said she's long wanted to bring Bark 'n the Park to the Mahoning Valley, but decided to considerably expand the event when she began planning Saturday's festival more than a year ago.
"Bark 'n the Park is anti-cruelty," she said. "It's about socializing with
pets, treating pets humanely and understanding pets. [Participants] can get ideas of what to do with their pets to have fun."
The festival, which runs from 10 a.m. to 5 p.m. at the park on Mosier Road, will be filled with activities for both pets and their owners, including a dog and pet-parent look-alike contest, a family fun zone and a bone hunt, Hoffman said.
In addition, Gary Markasky, who formerly was the lead guitarist for the Michael Stanley Band, will perform, and adoptable dogs from five area humane societies and rescues will appear in the Adorable Adoptables Fashion Show.
Animal Charity Humane Society on Market Street in Boardman plans to participate in Saturday's event, said director Talia Musolino.
"It helps our animals get looked at and adopted," said Musolino, referring to events such as Bark 'n the Park. "We're hoping for an adoption."
All breeds, ages and sizes of dogs — along with their owners — are encouraged to attend Bark 'n the Park, Hoffman said. There will be no entrance fee for owners, although registration for dogs is $10. This cost includes an event bandanna along with a bag of treats.
Hoffman said she's hopeful that Bark 'n the Park will become a biannual tradition in the Valley. The next event is scheduled for Oct. 5 in Tod Park in Girard.
"We've domesticated dogs so much. We're responsible for them," she said. "[Bark 'n the Park] is all about the pets. We have to speak for them. They can't speak for themselves."