Canfield's Brode competing at NCAA championships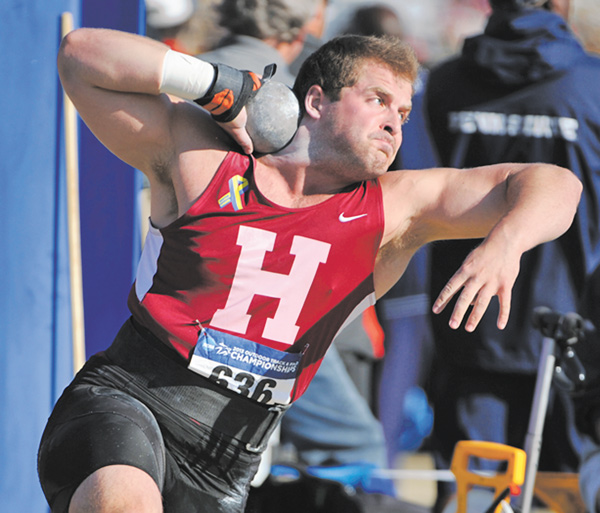 ---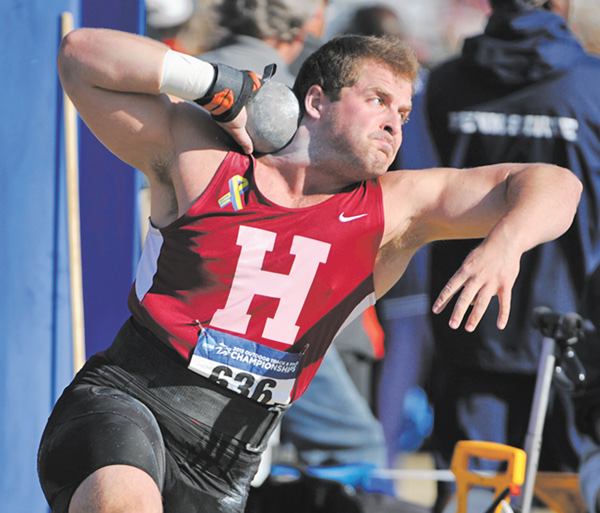 Photo
Canfield High track standout Dustin Brode will compete today for Harvard University as one of 24 finalists in the shot put during the NCAA Division I outdoor track and field championship in Eugene, Ore.
Canfield graduate Brode throwing his weight around
for Harvard University at NCAA championships
By Joe Scalzo
Since Dustin Brode arrived in Eugene, Ore., for this week's NCAA Division I outdoor track and field championships, he's been blown away by the lush green scenery, the mountain ranges that dot the horizon and historic Hayward Field, which hosts the annual event.
But maybe the most amazing thing he's seen so far was on TV.
It was a commercial — for track and field.
"It's incredible — they had highlight reels like you'd see for a basketball game or a football game," said Brode, a Canfield High graduate who now throws for Harvard University. "I've never seen that done for track.
"This is a city that cares more about track than most things."
Tonight, Brode will compete in the shot put, one of 24 finalists in the event, which begins at 5:30 p.m.
Brode is seeded 16th with a throw of 18.45 meters (about 60 1/2 feet) — about three feet behind top-seeded Nick Vena, a sophomore from Georgia.
"Honestly, my goal is to win," he said. "It's absolutely an absurd thought but it would be awesome.
"But as long as I get the best throw I've ever thrown, I'll be happy."
It wasn't always this way. Back at Canfield, Brode was notoriously self-critical, even finding fault with his career-best throw of 71-7 1/2 at the state meet, which still stands as the best in Ohio history in any division. (A college shot weighs 16 pounds, compared to 12 for high schoolers.)
"I've mellowed out a lot since high school," Brode said, speaking by phone on Monday. "I'm still kind of critical of myself but not nearly as much as in high school.
"It's tough to be incredibly self-critical when you know you're not doing everything you could be doing."
In addition to spending 19 hours in class each week (and another 10-15, minimum, on homework), Brode works 15 hours a week and spends 25 more on track.
"There's not a lot of time for sleep in there," said Brode, who is majoring in human evolutionary biology with a minor in economics. "Once school ended [last month], there was a huge burden lifted off my [training] schedule."
Brode qualified for the NCAAs in March with a 17.73m throw and threw 18.20 on May 5, breaking Harvard's school record from 1969. He broke that record again at NCAA regionals on May 24 with his personal-best throw of 18.45.
"I knew all the prep work I did last summer would eventually pay off and luckily it has," he said. "The big throws are coming at the right time this year and that's really all that matters.
"That's something that's come with age. I don't sweat all the small meets during the season. I focus on the meets that actually matter."
The NCAAs begin with two flights of 12 competitors each. The top nine advance to finals. The top eight earn first team All-America, with the next eight on the second team and last eight on the third team.
"Really, my goal is to make the finals and see what happens from there," he said. "I'd love to be first team All-American.
"There's been more 70-foot-plus throws here [in Eugene] than any other ring in the world. It's where the U.S. Olympic Trials are. It's a great ring and everybody throws their farthest there. That's what I'm expecting to do."
While Brode expects to enter the business world after graduation — either working for a company, or starting his own — he said he'd like to make a run at the Olympic Trials. In 2012, the provisional ("B") standard was 18.60 meters with any throw above 20 meters earning an automatic invite.
"I wouldn't want to miss an opportunity to compete at the Olympic Trials and possibly make it [to the Olympics]," he said. "That would be a life accomplishment. But I'm just playing it by ear right now."
Tayala In hammer
McDonald High graduate Matthias Tayala (Kent State) also qualified for this weekend's nationals and will compete in the hammer throw on Thursday. He is seeded 23rd.
Tayala finished 11th at last month's regional meet with a throw of 204-9. The top 12 advanced.