Pedal for the Pantry helps stock church food shelves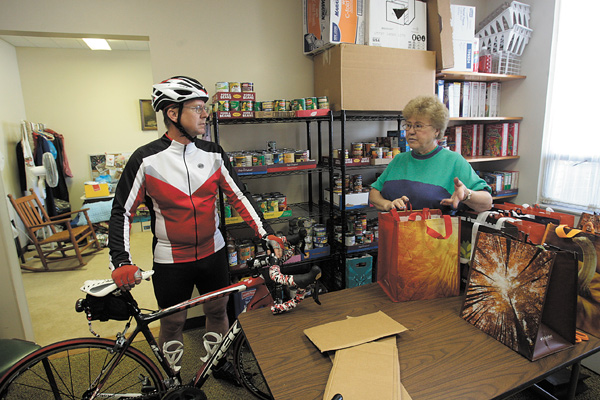 ---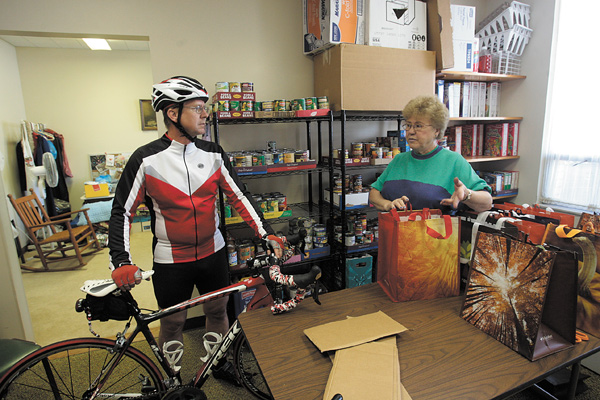 Photo
Don Cherry, a bicycling enthusiast and member of Grace United Methodist Church in Warren, talks to Shirley Frazier, the church's food-pantry coordinator, about his upcoming 68-mile bike ride that is a fundraiser for the pantry.
By LINDA M. LINONIS
Warren
Pedal for the Pantry pumps up funds to help stock the food shelves at Grace United Methodist Church.
Bicycle enthusiast Don Cherry, a church member since 1996, came up with a fundraising idea that worked in tandem with his hobby.
He's been bicycling for fun and exercise about five years. "I wanted to keep my blood pressure and cholesterol good so I thought bicycling would help," he said.
On Saturday, Cherry will ride his 16-pound carbon- fiber road bike in the World of Wildlife bicycle trek on the Western Reserve Greenway in Trumbull and Ashtabula counties. Trumbull County MetroParks sponsors the ride with 20-, 40- or 68-mile routes. Cherry is pedaling the longest one. "I wanted to take this ride and do some good with it," he said.
At Grace UMC, 1725 Drexel Ave. NW, members have pledged various dollar amounts for Cherry's ride. Last year, he raised $1,000 and hopes to match it this year. As of Monday, he had $700 in pledges. Pledge amounts range from $10 to $100. Previously, members pledged a dollar amount for every mile Cherry rode; now it's a lump sum.
Cherry said he averages 20 to 35 miles during the week on bicycle rides and about 50 miles on weekends. "I ride daily," he said. "It's an opportunity to relax the mind. It's also a stress reliever and good exercise."
Cherry said he talked over his fundraising idea with the pastor, the Rev. Glenn Hamilton. "We're about doing good, and this does that," the minister said. "The congregation is behind it."
For food-pantry coordinator Shirley Frazier, those are encouraging words. She's been a church member for a decade and coordinator for eight of those. The food pantry has operated in the 250-member church for nearly 20 years.
"When Don came up with his idea, the pantry funds were down to $400," Frazier said.
It takes about $700 monthly to operate it and serve about 50 families in Trumbull County. Frazier said the pantry started out with 15 families but the need has grown. The average number increases at holidays such as Thanksgiving, Christmas and Easter when the pantry gives out turkeys and hams.
Food-pantry supplies and funds also come from the annual U.S. Postal Service food collection, two food drives sponsored by Northwest Neighborhood Association, proceeds from the church's annual rummage sale in August and other donations.
Frazier said she shops at Aldi and Giant Eagle, which also donate goods to the pantry.
Frazier said people may sign up by calling 330-395-5231 and provide pertinent information. Frazier said she then checks with the Salvation Army. "This is to prevent double-dipping," she said. "The Salvation Army is a real help and has good records," she added.
The food pantry conducts a distribution from 9 a.m. to noon the third Thursday of the month. Frazier pre-packs bags. For June, congregants donated plastic tote bags for the picnic-themed giveaway. "I like to do something different," she said.
This month's bags will have some staples such as cereal and soup along with mustard, ketchup, hot dogs and buns and marshmallows. "I try to make it a fun thing," Frazier said.
Recipients are "the working poor," Frazier said. "Many have part-time jobs, but it's not enough to live on, or they've lost a job."
Frazier, who also is a Sunday school teacher at the church, said she feels her volunteer service "is something the Lord wants me to do." She added, "The church is there to help people."
Cherry agreed, adding "It's my mission and the church mission."